Speaker Yakubu Dogara Gives Abdulmumin Jibrin 7 Days To Retract Allegations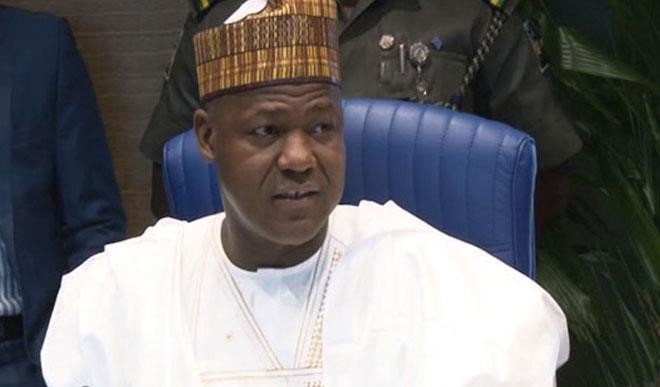 Estimated Reading Time: <1
The Speaker of the House of Representatives, Yakubu Dogara, has given a seven-day ultimatum to the former chairman of the House of Representatives Committee on Appropriation, Abdulmumin Jibrin, to tender an unreserved apology to him and retract all allegations made against him or face legal action.
A statement issued by the Special Adviser on Media & Public Affairs to the Speaker, Mr. Turaki Hassan, stated that the demand was contained in a letter written and addressed to Jibrin by counsel to Dogara, Professor Joash Ojo Amupitan (SAN) & Co.
Jibrin had claimed that Speaker Yakubu Dogara, his deputy, Mr. Sulaimon Yussuff Lasun, House Minority Leader, Mr. Leo Ogor and the House Chief whip, Mr. Ado Doguwa selfishly allocated projects worth N60 billion to their constituencies.
He made the allegations barely 24 hours after he was removed from his position as the chairman of the House of Representatives Committee on Appropriation.
He demanded the immediate resignation of the principal officers of the House of Representatives on the basis that they lacked the moral rectitude to remain in office.
He maintained that he decided to resign to free himself of mischief and consistent blackmail against his person on the issue.
But in the letter sent to Jibrin, Dogara's counsel noted that the claims made Jibrin were aimed at tarnishing the Speaker's "image at home and abroad and is a clear case of libel."
The letter read in part: "We act as solicitors to Rt Hon. Yakubu Dogara, Speaker of House of Representatives of Three Arm Zone National Assembly Complex, Abuja hereinafter referred to as "our client" and on whose instructions we write this letter to you.
"The attention of our client has been drawn to a libelous press statement you issued on Monday 25th July 2016 which was made available to members of the press (print and electronic media) titled "THE CORRUPT SPEAKER YAKUBU DOGARA AND HIS 3-MAN CABAL".
It continued, "The personal references are obviously directed at our client, and amount to a very serious libel.
"By the said publication and without putting to the public any shred of evidence, our client is portrayed as a criminal, corrupt, dishonest, fraudulent, dishonourable and unfit to hold the position of Speaker of House of Representatives.
"Our client's reputation has further been brought down in the estimation of right-thinking members of the society and he has been thrown into public opprobrium, odium, scorn, and ridicule.
"Consequently, we consider your publication on the matter as not only libelous but made in bad faith; an act of vendetta owing to your recent removal as the Chairman of House Committee on Appropriation.
"The said publication is also aimed at causing disaffection between Nigerians and members of the House of Representatives.
"Sequel to the above, we have to request you to submit immediately to us a clear and unqualified apology and retraction of the publication in an equally conspicuous position in all the print and electronic media where the publication appeared.
"TAKE NOTICE that in the event of your failure/refusal to comply with the above-mentioned demands within seven (7) days of your receipt of this letter, we have further instructions to institute a suit against you in a court of law."