13 Days To 2016 Olympics, Nigerian Athletes Beg For Funding On Social Media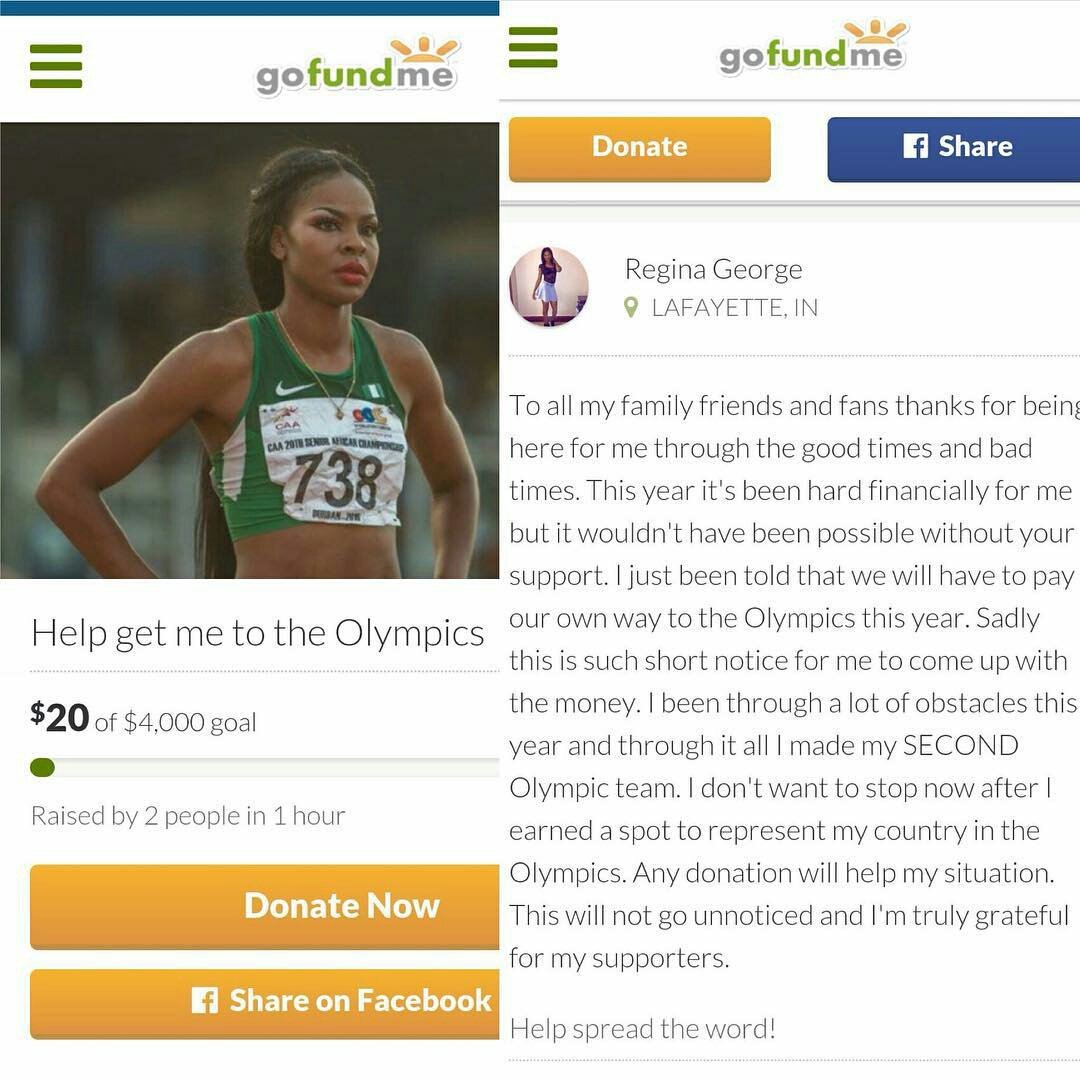 13 days to the 2016 Olympics game in Brazil, some Nigerian athletes have taken to social media to solicit funds to fly to Rio.
Some of the athletes, who could not afford to miss the Olympics after about four years of preparation owing to delay in releasing funds for them, begged well-meaning Nigerians to come to their rescue.
The athletes are Regina George, Seye Ogunlewe, Nikki Okwelogu and Chierika Ukogu.
George represented Nigeria at the London 2012 Olympics and was the silver medalist at the African Championships in Porto Novo in 2012.
George, who tweets via @DivaOnTheTrack, took her request of $4,000 to a crowd-sourced funding platform, gofundme.com.
She wrote: "To all my family friends and fans thanks for being here for me through the good times and bad times. This year it's been hard financially for me but it wouldn't have been possible without your support.
"I just been told that we will have to pay our own way to the Olympics this year. Sadly, this is such short notice for me to come up with the money.
"They (Sports authorities) also promised a refund but I'm still waiting for many refunds promised in the past. I been through a lot of obstacles this year and through it all I made my second Olympics team.
"I don't want to stop now after I earned a spot to represent my country (Nigeria) in the Olympics. Any donation will help my situation. This will not go unnoticed and I'm truly grateful for my supporters."
George has already received $640 from spirited donors. Okwelogu and Ukogu also used gofund.me to beg for funds.
Ogunlewe, who tweets via @seyeogunlewe, said: "Just so every one knows. We all got that message saying we should get our own tickets to Rio, #helpnigerianathletes."
Meanwhile, the Minister of Youths and Sports, Barrister Solomon Dalung, has said that he regrets the embarrassment caused Nigeria by a letter which directed Nigerian athletes going to the Olympic Games in Rio to buy their own air tickets. The minister claimed that the said letter was not from the ministry and vowed to investigate the writer.
He disclosed this in a statement signed by his media aide, Nneka Anibeze, which was posted on his Facebook account.
Barrister Dalung stated that the Director, High Performance, Angie Taylor has been saddled with the responsibility of arranging for the flights and movement of the foreign based athletes to and from Rio. "We did not write any mail asking athletes to pay their way to Rio. As the overseers of sports in the country, it is our duty to take care of all our athletes.
The letter did not come from us and we will investigate the writer of that letter. It does not represent our stand concerning the movement of athletes to Rio and the writer or anybody asking athletes to buy their tickets to Rio will be investigated. We ask Nigerians and athletes in particular to disregard the mail" Dalung said. He urged athletes to remain focused on their build-up to the Rio games.