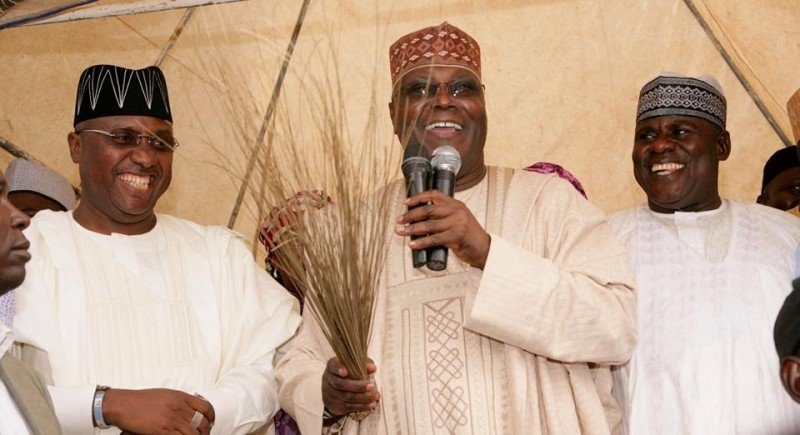 The visit of former Vice President, Atiku Abubakar, to the National Secretariat of the All Progressives Congress (APC) was to register his displeasure towards the imminent return of Nuhu Ribadu, a former Chairman of the Economic and Financial Crimes Commission (EFCC).
Sources say Ribadu has signified his intention to return to the ruling party following pressure from the leaders of APC at the National level; ex- Adamawa Governor, Murtala Nyako; the Secretary to the Government of the Federation, Babachir David Lawal; and the state and local government chapters of the party.
Ribadu even got a letter from the Adamawa State chapter of the APC seeking his return to the party with a former governorship candidate of the defunct Action Congress of Nigeria (ACN) in the state, Marcus Gundiri, with their supporters.
The letter, dated June 22, 2016, signed by the Acting State Secretary, Alh. Saidu Naira, reads: "We the entire APC Adamawa State chapter wish to invite you back to your Home party, APC.
"Given your track records and progressive nature, we strongly believe APC is where you belong to.
"We are also mindful of the efforts and contributions you made during the merger without which the merger would have been difficult.
"To this end, we reaffirm our request for you to come home to APC and assist and contribute to the success of the APC government both at the state and national levels."
In protest, Atiku led the Adamawa State Governor, Jibrilla Bindow, the Secretary to the Adamawa State Government and the Chief of Staff on Monday to register their displeasure against Ribadu's return to John Odigie-Oyegun, National Chairman, APC, and the National Working Committee (NWC) of the party.
Atiku opined that Ribadu ought to be disciplined because he contested on the platform of the Peoples Democratic Party against Bindow adding that his return will spell doom for APC in the state.
In response, the APC leadership told Atiku, the governor and others that the constitution allows an individual to join a party of his choice adding that the APC is receptive to anyone's membership.
"We cannot stop anybody from joining a party. It is a state issue. If the state executives of APC accept Ribadu, we cannot reject him.
"We will however do our best to reconcile all members of the party, whether old or new. Our ultimate target is to keep the APC family united," they were told.