President Buhari's Wife, Aisha Is Suing Governor Fayose Over Halliburton Ties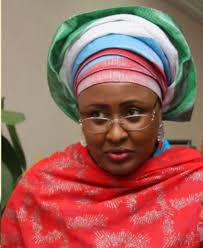 Estimated Reading Time: <1
President Muhammadu Buhari's wife, Aisha, has sued Governor Ayo Fayose of Ekiti State for claiming that she was involved in the Halliburton corruption scandal.
Mr. Fayose had in June said Mrs. Buhari was the "Aisha Buhari" named in a U.S. court document, alleged to have been involved in a bribery case involving a convicted former U.S. lawmaker, Williams Jefferson.
The governor, in what appeared to be an error, referred to the scandal as the Halliburton corruption case. The Halliburton case is different from the Williams Jefferson scandal.
But Mr. Fayose insisted he was right despite Mrs. Buhari's denial and threat of legal action,
As governor, Mr. Fayose has constitutional immunity against criminal prosecution.
Ekiti State Governor, Ayodele Fayose, had revived a controversy surrounding the role played by Aisha, President Muhammadu Buhari's wife, in the messy bribery scandal involving U.S. Congressman, Williams Jefferson.
Mr. Fayose distributed a link to the U.S. Department of Justice Web site holding court documents where Mrs. Buhari was alleged to have transferred suspicious funds to a convicted former American congressman, Williams Jefferson.
In a statement signed by his Chief Press Secretary, Idowu Adelusi, Mr. Fayose said President Buhari was far from being a clean man.
"Even the President cannot claim to be an angel," the governor said, in reaction to the freezing of his Zenith Bank account by the Economic and Financial Crimes Commission.
"The estate he built in Abuja is known to us. His wife was indicted over the Halliburton Scandal (sic). When that American, Jefferson, was being sentenced, the President's wife was mentioned as having wired $170,000 to Jefferson. Her name was on page 25 of the sentencing of Jefferson. We can serialize the judgment for people to see and read."
The governor's Special Assistant on New Media, Lere Olayinka, later circulated links to and copies of the court document detailing Mrs Buhari's mention in the scandal.
The documents showed that in some of the exhibits tendered in convicting Mr. Jefferson of bribery, a Mrs. Buhari was mentioned as transferring $170,000 to the American politician using a firm as proxy.
"Government Exhibits 36-87 (6/26/02 $170,000 wire transfer from account in Nigeria in the name of Aisha Buhari to an account in the name of The ANJ Group, LLC, identifying "William Jefferson" as Beneficiary)," the U.S. Government Sentencing Memorandum said on page 22.