"Agba Akin No Dey Fear" – Senator Dino Melaye Storms Bourdillon Street Where Tinubu Resides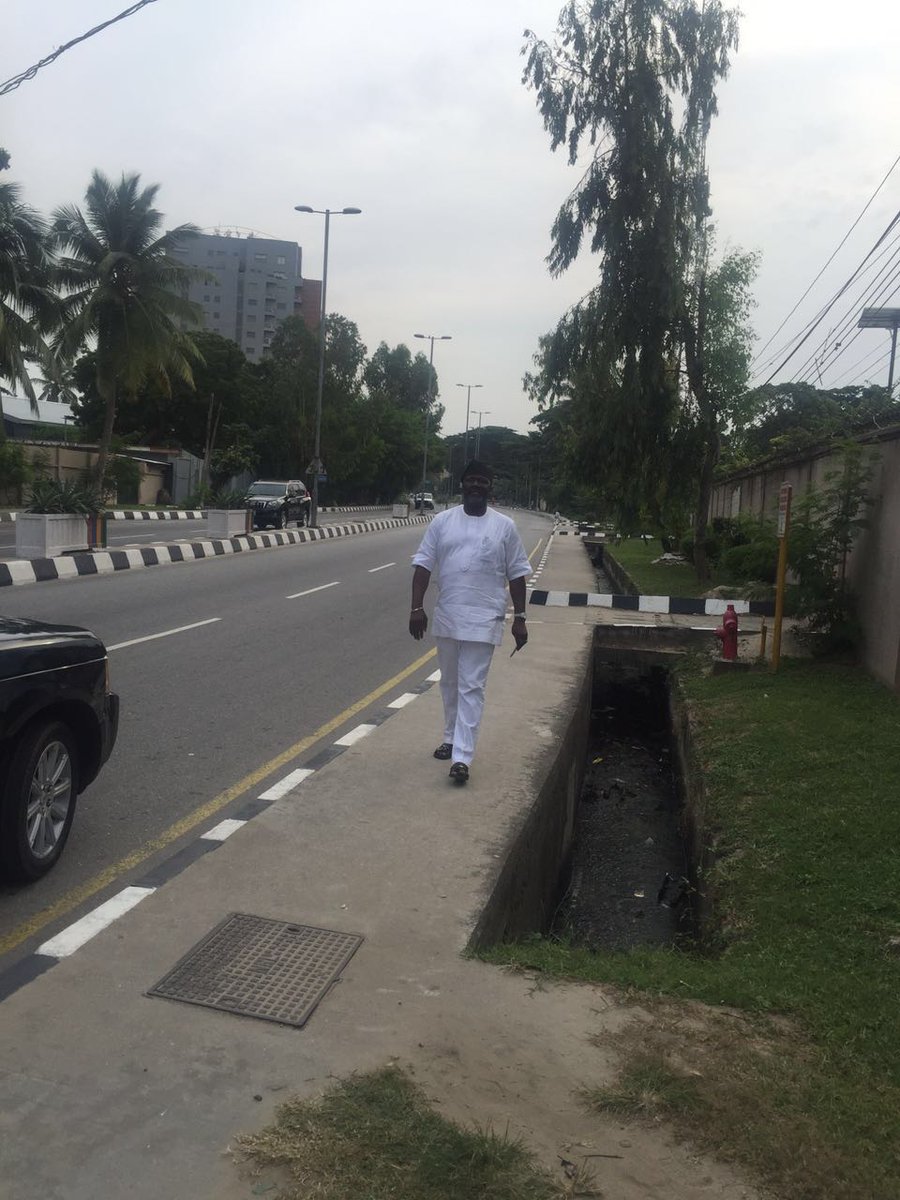 Estimated Reading Time: <1
Following the altercation between Senators Dino Melaye (APC-Kogi) and Remi Tinubu (APC-Lagos) which saw both lawmakers calling each other names and charging at each other.
The Lawmaker from Kogi accused of abusing Mrs Bola Tinubu storms Lagos, daring those who think he is afraid of the All Progressives Congress National Leader..
Announcement: I dey Lagos ooo,those wey say make I no enter Eko. Will drive round lagos in an open roof pic.twitter.com/4MGfnFJbxJ

— Senator Dino Melaye (@dino_melaye) July 16, 2016
Dino on bourdillon street in lagos now,walking down the street. Waiting for noise makers. Eyin da? pic.twitter.com/KspMeB8Ox6

— Senator Dino Melaye (@dino_melaye) July 16, 2016
Those who witnessed the incident, which occurred during a closed-door meeting held by senators on Tuesday, said trouble started when Mr. Melaye urged the Senate to descend heavily on members who had offered to serve as prosecution witnesses in the ongoing forgery case against Senate President Bukola Saraki and his deputy, Ike Ekweremadu.
sources said when Mrs. Tinubu was recognised to speak, she rose, and said, "I'm just wondering why whenever Senator Dino speaks in this chamber, he is always threatening people and behaving childishly and at times like a thug.
"I think he needs to know that every senator here represents their constituencies. And that there is no need to threaten anyone.
"We are seeking and working towards reconciliation, yet you are busy issuing threats."
One of our sources (PT) said at this point, Mr. Melaye jumped up from his seat and charged towards Mrs. Tinubu, saying, "Look this is not Bourdillon (referring to the famous Lagos residence of Mrs Tinubu's politician husband). I will beat you up, ….. impregnate you and nothing will happen."
Witnesses said as Mr. Melaye charged towards the Lagos senator, other senators, especially those from the South-West geopolitical zone, waded in and shielded Mrs. Tinubu from attack, and then calmed her down.
A few other senators also prevailed on Mr. Melaye to take it easy and let peace reign, sources said.
"We had to move in to save the situation because he had already overwhelmed her with his voice," one of the senators, who calmed Mrs. Tinubu down, said.
"Many dirty thing do happen during closed-door sessions, but people don't get to hear about it," another senator said. "But now that the senate is divided, proceedings at executive sessions are being leaked to the press.
"Yesterday was one of such dirty sessions, there was ramblings, uproar and profanities. It was so sad."
Agba Akin no dey fear pic.twitter.com/MbyDfiB4kb

— Senator Dino Melaye (@dino_melaye) July 16, 2016
Senator Dino Melaye addressing media men had said he was provoked by Senator Oluremi Tinubu into a verbal altercation in the Senate's closed-door session of on Tuesday and dismissed cautions from her husband, Asiwaju Bola Tinubu, saying he was neither God nor his political patron.