"Wait For 2018" – Governor Fayose Tells APC To Stop Wailing Over The 2014 Elections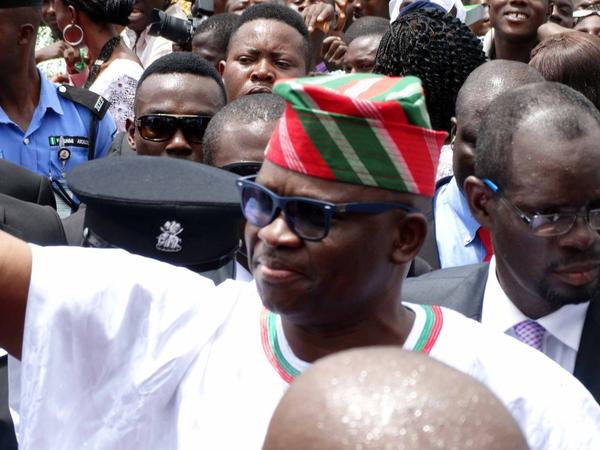 Estimated Reading Time: <1
Ekiti State Governor, Mr Ayodele Fayose has told the All Progressives Congress (APC) to stop chasing shadows on the June 21, 2014 governorship election in the State and wait for 2018, saying; "writing over 100 petitions to the office of the Inspector General of Police (IGP) on an election conducted two years ago and was adjudged as free, fair and credible even by the international community, including the United States of America government is a demonstration
of the APC desperation to throw Ekiti State into chaos just because the party lost power."
Special Assistant on Public Communications and New Media to the governor, Lere Olayinka, in a statement issued in Ado Ekiti on Sunday, wondered how many petitions should have been written against the Presidential Election if APC could write over 100 petitions against an election held in just 16 out of the 774 Local Councils in the country."
The governor, who advised the new IGP not to allow himself to dragged into the Ekiti State APC blinded show of political desperation, added that; "the IGP should maintain the culture of professional policing and maintenance of rule of law as done by his immediate predecessor, Mr Solomon Arase. He should be mindful of being drawn into needless political fights orchestrated by some APC governorship aspirants in Ekiti State just because of fear of 2018."
He pointed out that; "assuming but not conceding that offences were committed by anyone before, during and after the election held two years ago, the Ekiti State Police Command would have carried out its investigation and made anyone found culpable to face the law.
"It should also be pointed out that it is the duty of the Attorney General of Ekiti State to prosecute anyone that committed any offence in Ekiti State and not that of the Attorney General of the Federation (AGF).
"Most importantly, the IGP should be mindful of the reality that writing over 100 petitions to the police, two years after an election was won and lost and expecting the police to embark on wanton arrest of innocent Ekiti people is a clear invitation to anarchy and it is hoped that the new IGP won't begin his career as the number one police officer in Nigeria with the ridiculous action of running after PDP members in Ekiti State instead of focussing on the growing insecurity in the country."
Speaking further, the governor said; "If the APC bad losers in Ekiti State are still making noise over an election they lost in all the 16 Local Councils in the State two years ago, Nigerians should ask questions as to whether it was through the use of security agents that the PDP won the Presidential, National Assembly and State House of Assembly elections last year.
"The IGP should be mindful of the fact that as at today, dispute on the governorship election has become functus officio because as a general rule, once a tribunal has reached a final decision in respect to the matter that is before it in accordance with its enabling statute, that decision cannot be revisited. "The IGP should also be reminded that the US Department of State and
other International Observers, which observed the election, praised security forces (including the police) for collaborating effectively in providing a safe environment free of major incidents.
"Therefore, these petitions, which are obviously meant to orchestrate the harassment and intimidation of PDP members in Ekiti State and notable functionaries of the government should be ignored by the IGP while the police boss focusses on the greater task of resolving the security problems being faced by the country."