Times Are Hard, Nigerians Are Groaning– APC National Chairman, Oyegun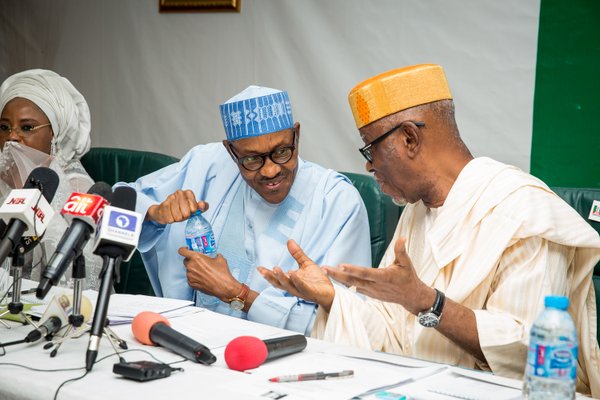 National Chairman of the All Progressives Congress, Chief Odigie Oyegun, on Saturday said despite the challenges facing Nigeria currently, the future of the country was bright.
He noted that the citizens were groaning presently because his party took over a nation burdened by a poor economy occasioned by the fall in global price of crude oil.
Oyegun made the remark during a luncheon and award ceremony organised by the University of Ibadan Alumni Association as part of activities marking the annual programmes of the association.
In his speech, the APC chairman drew consolation in the ability of President Muhammadu Buhari to reshape the country's economy through personal sacrifice. He however identified the limitations of the President under a democratic system.
Oyegun said, "We took over this nation in such a bad shape. What any of us never calculated would ever happen started happening. The price of crude (oil) collapsed in a very precipitate manner, such that it did not give anybody time to plan or develop a fall-back situation.
"Yes, things are bad. Yes, things are hard. Yes, Nigeria are groaning. But we have a President, who rather than (bring) plastic solution, has decided to make himself, and virtually all the governors the sacrificial lamb in establishing a foundation for a totally different nation.
"It is hard work and it is a tough work. In the period, it is going to be a lot of pains and we are already in it. We cannot solve all the problems because he (president) has a four-year term. Our prayer is that God will give him enough strength because he is one of the people who have the sacrificing courage to take the kind of decisions that are vital and necessary. He has the kind of discipline that Nigeria needs to progress. Yes, it is hard time. But I have no doubt that the future is very bright."
The chairman of the occasion and former Vice- President, Atiku Abubakar, was represented by the Pro- Chancellor of the university, Dr. Umar Mustapha.
Apart from Oyegun, some of the other awardees were the former governor of Abia State, Orji Kalu; Leader of Afenifere, Reuben Fasoranti; former Managing Director of the defunct Daily Times, Chief Areoye Oyebola; and former presidential candidate who is now leader of the Socialist Democratic Party, Chief Olu Falae.
Also at the event, the Oyo State Governor, Abiola Ajimobi, thanked the UIAA for recognising the awardees for their contribution to the institution and the country as a whole. He described Oyegun as an accomplished economist, a distinguished civil servant and a committed leader of the APC.
Meanwhile, the National President of the UIAA, Dr. Kemi Emina, has described Kalu as a great entrepreneur who was leading Nigerian youths through his entrepreneurial spirit. The former Abia State governor was represented at the event by his personal assistant, Kunle Oyewumi.