Niger Delta Militants Strike, Attacks Nigeria Agip Oil Pipeline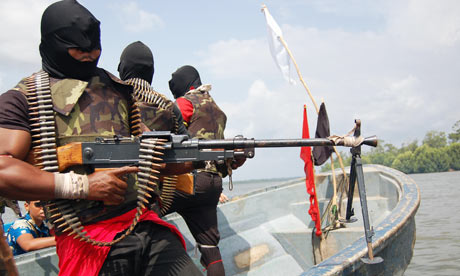 Estimated Reading Time: <1
Militants ravaging oil installations in the Niger Delta region, yesterday, blew up another pipeline belonging to the Nigerian Agip Oil Company (NAOC) in Brass Local Government Area, Bayelsa State.
The attacked facility, which was identified as Obi Obi Brass Trunk line is described as a major pipeline of Nigerian Agip. Oil Company (NAOC).
Security sources said the incident which happened at about 3am sparked fire and sent thick smoke into the atmosphere.
The Niger Delta Avengers (NDA) which had rebuffed proposed dialogue with the Federal Government claimed responsibility for the attack through its Twitter handle.
The militants further commended the international community for allegedly halting crude oil business transactions with Nigeria.
It said: "At 3am of Friday NDAvengers blew up the Obi Obi Brass Trunk line belonging to Agip ENI. It is Agip's major crude oil line in Bayelsa State.
"It is good as foreign refineries stop buying Nigeria oil because the Nigerian State has been robbing the Niger Delta of her oil and gas. We will inform the international community when we are open for business".
The state Commandant, Nigeria Security and Civil Defence Corps (NSCDC), Mr. Desmond Agu confirmed the incident and said the corps had started meeting with traditional rulers in various coastal communities as part of methods to resolve the crisis in the state.
He said the meeting began with traditional rulers from communities in Southern Ijaw, a local government with one of the largest concentration of oil activities in the state, adding that the strategy was aimed at directly involving the traditional rulers and youths in the protection of critical national assets within their domains.
Agu said the corps and other security agencies remained resolute and committed in protecting the country's assets adding that his men were doing their best to protect the state from attackers.
He asked aggrieved youths to stop violence and embrace peace for Niger Delta to attain expected growth and development.
He said: "This is the case of people turning their weapons against themselves. This destruction is having grave impact not just on the economy of the region but also on the environment.
"Any polluted environment takes a long time to recover and become suitable for farming, fishing and other uses. Invariably, these youths are destroying their future and the future of their children. It doesn't worth it because there are better ways to make demands than self-inflicted injuries".