Yakubu Dogara: How Politicians Use Religion To Divide Nigeria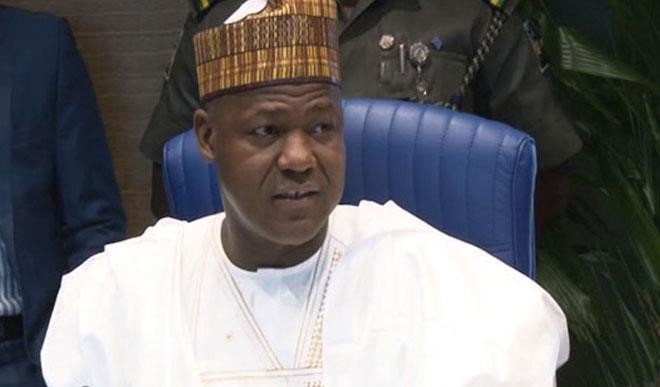 Estimated Reading Time: <1
It is important to remember always that Nigeria was born in diversity: the 1914 amalgamation brought together a potpourri of ethnic nationalities hitherto constituted as independent geopolitical as well as sociocultural entities. Diversity is therefore our historical reality. This ageless diversity question is founded on ethnic, political, economic, social, cultural, geographical and religious or faith platforms. No wonder therefore that pretty early in the life of Nigeria's nationhood, in an argument about governance by two nationalist leaders, Sir Ahmadu, Bello the Sardauna of Sokoto in retorting to an appeal by Sir Nnamdi Azikiwe that they should forget their differences, is quoted as saying "let us not forget our differences, let us understand our differences and in so doing build unity in our country."
Nigeria's huge population of over 160 million comprises diverse ethnic nationalities and cultures. With over 250 ethnic nationalities speaking over 1000 languages and dialects, and a complexity of cultural milieu, not many nations on the face of this earth can lay claim to such complex diversity. The question would arise as to whether this ethno – cultural diversity is a liability or asset to national unity and development. I would make bold to opine that this is an asset because with such a complex variety, there can be no dull moment as variety is not in short supply, thus constituting an inexhaustible barn of raw materials for the tourism and entertainment industry. Again if focus on the value added that this diversity in ethnicity and culture brings to the table of our developmental quest, we can only appreciate God for this gift.
The other form of diversity that our nation is blessed with is RELIGION. Majorly, Nigerians profess Christianity, Islam and traditional religious beliefs. Religion, we all know is man's relationship with God or gods as the case may be. It is also often propagated that love of God and love of fellow man is at the centre of all religious beliefs. Ordinarily therefore, if majority of Nigerians profess these three religions, then religion should be the first centripetal force to reduce our ethno- cultural diversity from 250 ethnic nationalities and over 1000 languages to a diversity of 3 groups. Put differently, religion ought to be a factor for national unity and by necessary implication national development.
Nigeria also enjoys the benefit of geographical diversity: with a territory spanning 923, 768 square kilometers, stretching from the desert in the north through the mangrove swamps to the Atlantic Ocean in the south, the diversity of fertile arable land is immense, providing for vast diversity of crop and other forms of agriculture. This geographical diversity has proven to be for mutual complementary coexistence : that is why the cola nut which is worshiped in the east and consumed in the north is grown in the west of the country; that is why petroleum minerals are predominantly in the riverine south but gypsum, a major solid mineral critical in it's exploitation is in the middle belt and northern parts; that is why the trucks move the yams from the north to the south and return to the north with Loads of plantain from the south. The geographical diversity therefore provides comparative advantage for each section and for the mutual needs for all.
It does appear that all these diversities are in themselves perfect building blocks for national unity and development, the reality has not been exactly so. I believe this is the reality that brings out the true essence of this conference: Nigeria's diversity which ought to be a propeller to unity for national development is being misappropriated to the results of cancerous hiccups to the contrary.
I should like to quickly state that two artificial diversities are the architects of this misappropriation namely, politics and economics. The population suffers from acute economic inequalities and in the fierce economic competition that ensues, disadvantages are blamed on the doorstep of ethnicity, religion and geopolitics. Sometimes the divide in socioeconomic opportunities is explained away on partisan political cleavages.
Politics, indeed partisan politics is played by fanning the embers of ethnicity, religion and geopolitics to canvass and sustain support on the one hand and to build fences of defense for unrealized ambitions or even social misdemeanors. This then are the circumstances in which these natural diversities are altered from being constructive centripetal to destructive centrifugal forces to our quest for national unity and development.
Politicization of ethnicity; politicization of religion, politicization of cultural diversity, politicization of socioeconomic patronages, politicization of development and even politicization of national unity, strangely, perhaps, if you will excuse me, politicization of politics itself. Now as if these were not bad enough, ethnicity and religion have become the greatest spices for our politics and governance. These are paradoxes.
To appropriate our diversity for national unity and development we must resolve these paradoxes. Where for instance is the place of ideology in our politics? where is the place of love for God and man in our religious beliefs and where is the place of transparency in our governance? I have no doubt that the composition of this conference possess the capacity to call the critical shots for the resolution of these paradoxes.
It remains for me perhaps to remind the youths of Nigeria that the future of the country is firmly in your hands, it is therefore of immense interest that you are rising to the challenge by bringing these matters unto the front burner through fora such as this. I therefore charge you to ensure that the outcomes of this conference are deployed towards the promotion of national unity and development. For our part in the legislature, we shall continue to provide the requisite legal framework to enhance youth participation in governance.
______________________________________________________________
Dogara, Speaker, House of Representatives, gave this address at a 'Youths Diversity Conference,' in Abuja on May 23, 2016
Disclaimer
It is the policy of NewsWireNGR not to endorse or oppose any opinion expressed by a User or Content provided by a User, Contributor, or other independent party. Opinion pieces and contributions are the opinions of the writers only and do not represent the opinions of NewsWireNGR.