Emir of Kano, Muhammad Sanusi Says Former Minister, Diezani Alison-Madueke Was Untouchable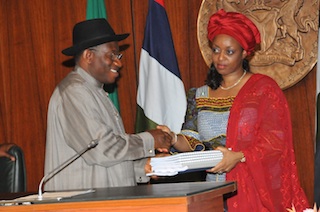 In an interview to be aired today by Forbes Africa TV, Emir of Kano, Muhammad Sanusi II has revealed that former Nigerian petroleum minister, Diezani Alison-Madueke was untouchable under president Goodluck Jonathan.
In the interview to be aired under the programme "My Worst day with Peace Hyde", Sanusi said nobody who had touched (confronted) embattled former Minister of Petroleum Resources Diezani Alison-Madueke when she was in office, survived it.
Sanusi got into trouble with the last administration after he alleged that $20 billion from oil remittances was missing. Sanusi, then governor of the Central Bank of Nigeria, also said Jonathan threatened him over the matter.
He was promptly sacked.
The interview will be aired today.