Should Saraki Be Removed, 10 APC Senators Back PDP's Ekweremadu For Presidency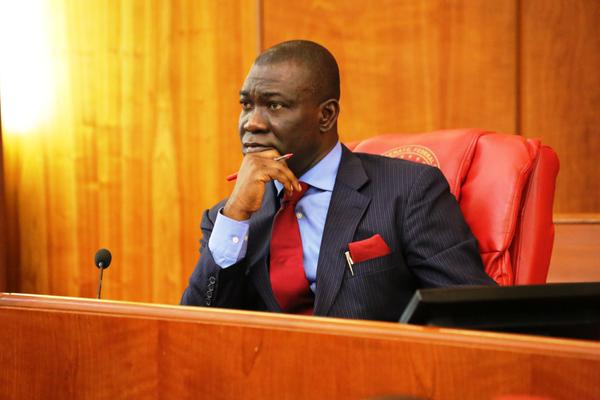 Estimated Reading Time: <1
Ten senators who are members of the ruling All Progressives Congress (APC) have concluded a deal with the opposition Peoples Democratic Party (PDP) to support its candidate for the Senate Presidency if Senator Abubakar Bukola Saraki is forced to resign at the end of his on-going Code of Conduct Tribunal (CCT) trial, Daily Trust on Sunday learnt from impeccable political sources at the weekend. Senate President Saraki's trial at CCT was accelerated by the tribunal's chairman Justice Danladi Umar last week and he could lose his exalted position if he is convicted of the charges brought against him by the Federal Government.
Daily Trust on Sunday learnt that the 10 diehard pro-Saraki APC senators held a meeting with their PDP counterparts and discussed their next line of action if the Senate President is forced to step down. At the end of the meeting, they agreed that Deputy Senate President Ike Ekweremadu would be put forward to replace Saraki. The 10 APC senators pledged to join hands with the 50 PDP senators to elect Ekweremadu as Saraki's replacement if it comes to that.
According to our sources, the APC senators who signed the deal include two senators from Kwara, one from Kogi, three from Niger, one from Adamawa, one from Sokoto and two senators from Bauchi State. The 10 assured PDP senators that if Saraki is forced out, they will stand by them to elect Ekweremadu "no matter what their party does to persuade them." They also promised that they will shun overtures even from President Muhammadu Buhari and team up with their PDP colleagues. At present, the Senate has 58 APC and 44 PDP senators with six vacancies. A switch of sides by eight APC senators is enough to turn PDP into a majority in the chamber.
A breakdown of the existing vacancies shows Rivers having three slots, while Kogi, Anambra and Imo have one slot each.
Explaining the reason for the APC senators' planned action, sources said the pro-Saraki group is convinced that his on-going trial at the CCT is a political witch-hunt orchestrated by the Presidency. They cited as evidence the "haughty tenacity" of CCT's chairman Justice Danladi Umar who last week refused to answer summons to appear before a Senate committee. The senators planned to order the police to arrest Umar and bring him to the committee, though they said they expected the Presidency to tell the police not to comply with the order even though it is constitutional.
Sources also told Daily Trust on Sunday that five senators who are former state governors have constituted themselves into a "peace group" to try to broker a deal with the presidency that will end Saraki's current travails. Members of the group, our sources said, are Senators Rabi'u Kwankwaso of Kano, Ahmed Sani of Zamfara, Abdullahi Adamu of Nasarawa, Aliyu Magatakarda Wamakko of Sokoto and Muhammadu Danjuma Goje of Gombe. Observers believe these five are also pro-Saraki senators, all of them being recent defectors from the PDP to APC. Their fear is that Saraki's travails may one day be extended to other PDP defectors by the original APC leaders.
However, other sources told Daily Trust on Sunday that efforts to broker a truce appeared to be making headway as last week ended. They cite as evidence the CCT chairman's sudden decision to postpone Saraki's trial until May despite his initial insistence that it will continue daily until it is concluded. In return, sources said, Saraki prevailed on the Senate committee that summoned Justice Umar to revoke the summons. The long postponement is expected to be used to broker a deal between the two warring APC camps.
Already, their conflict has made it difficult to resolve the controversy over the 2016 federal budget, which the National Assembly passed last month but which the president did not assent to even though he refrained from formally vetoing it. Daily Trust on Sunday learnt that Presidency officials told House of Representatives Speaker Yakubu Dogara that they were relying on him to break the logjam but Dogara reportedly told them that they must deal with Saraki who is the overall leader of the National Assembly.
When contacted, Ekweremadu's media, Alhaji Ismail Omipidan, denied there was such bid.
"And if there is no such bid, there cannot be any such pact. It's another hot lie from the pit of hell in the series of futile attempts to divide and rule the Senate, inject bad blood, and polarize the solid support and solidarity, which the Senate President enjoys among his colleagues. Why are some people trying to bury a man who is not dead?
"The Senate President is having his day at the CCT and we have no doubt that the truth will prevail. There should be a limit to propaganda, unless we have tacitly reversed the age-long tenet of justice in a democracy from innocence until proven guilty to guilty until proven innocent. Peddlers of such blatant lies are, therefore, authors of confusion and instability and must not be taken seriously," he said.
On his part, the deputy national vice chairman of the party (North-West), Alhaji Inuwa Abdulkadir, said the party was watching the unfolding events with keen interest.
"Of course, we know that for some time there have meetings by various groups in the Senate. They've the right to do their meetings because the constitution has given them that right. However, from the partisan perspective in the Senate. There is no single member that went there on his own. He rose to that position under the platform of a political party. For us as leaders, we're telling them all the time to be mindful of any action they would take.
"Similarly, as a political party, we don't want to mix up things. We want the CCT case to be decided on its merit first before we would take our formal position. In the meantime, we know we're in the majority in the Senate and we would remain as such. We're talking to our senators and they know what the party did for them," he said.
But the Senate Leader, Ali Ndume, said he was not aware of the pact, adding that "we are united and no APC senator will vote against his or her party.
"Mark my words, no APC senator will vote against his party. We are together and we are working for the actualisation of our party campaign promises.
"Do you want to bury a living person alive? Saraki is still in court and his case is still ongoing, so all this noise is unnecessary," he said in a phone interview.
Also in his reaction, the national legal adviser of the party, Dr Muiz Banire, said there was no way the position of the Senate president can be taken over by the opposition PDP in the event Saraki leaves.
When contacted last night in a telephone interview, a national officer of the PDP who craved anonymity told Daily Trust on Sunday that the party was aware of the development and that the PDP would be happy to take over the Senate Presidency.
"We have been in alliance for long because Saraki was a PDP member. When he was in the New PDP, which later merged with other parties to form the APC, we were still with him and him with us, even at the level of his Senate Presidency. So we will be happy to take over the Senate because the APC never wanted to recognise the New PDP in its fold," he said.
Meanwhile, the Senior Special Assistant to the President on Media and Publicity, Mallam Garba Shehu, declined comment on the issue.