EFCC Witness Denied Knowledge of The Contents of A Petition He Tendered As Evidence Against Saraki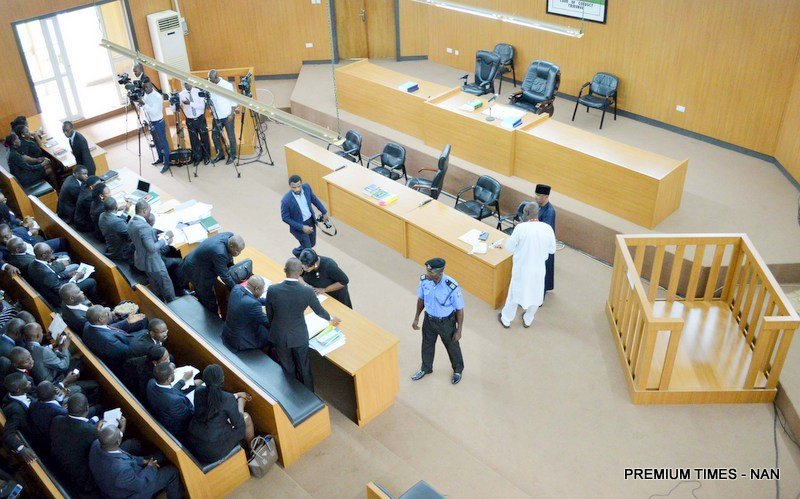 Estimated Reading Time: <1
Michael Wetkas, a detective of the Economic and Financial Crimes Commission (EFCC), on Tuesday denied knowledge of the contents of a petition he tendered as evidence against Senate President Bukola Saraki at the Code of Conduct Tribunal (CCT).
The petition, which is marked "Exhibit 11?, was written by a group known as Kwara Freedom Network, alleging corruption against Saraki.
While being cross-examined by Kanu Agabi, Saraki's lead counsel, Wetkas said he was not involved in the investigation of the petition he tendered as evidence at the tribunal.
Regarding whether he confirmed that local government funds were being illegally deducted as alleged in the petition against Saraki, he said:
"Not part of the investigation I carried out."
"Do you know whether the petition was addressed to the Code of Conduct Bureau (CCB)," Agabi asked.
"I don't work for the CCB. I wouldn't know."
Agabi: "In terms illegal transfer of funds by the accountant general, was he invited?"
Wetkas: "I cannot say because I was not the one in charge of this."
Agabi: "Did you know if this exhibit was referred to him for an answer?
Wetkas: "I wouldn't know, but he was once invited."
Agabi: "Did you meet with the members of Kwara Freedom Network?"
Wetkas: "It was not part of my investigation."
Agabi: "In the course of your work, did you come upon any document in which members of this network were called upon to justify their petition."
Wetkas: "I was involved in this investigation in 2014; the petition was in 2012."
Agabi: "Have you read the petition?"
"I only perused through it."
Agabi: "When you tendered this document, did it occur to you that you will be questioned?"
Wetkas: "This is not the aspect I investigated. Someone more competent than me will talk about it."
Agabi: "Did your perusal show that the asset declaration of the defendant was the issue."
Wetkas: "I can't remember seeing that."
When asked if he obtained the statements of the petitioners, the EFCC detective said he did not know.
Agabi: "Did you obtain any statement from the defendant on this petition?"
Wetkas: "It was not part of my investigation. I didn't investigate this aspect of the petition. There are people who are more competent to talk about it."
Agabi: "Exhibit 11 (the petition) is not addressed to the CCB. No action was taken for four years after exhibit 11 was received?"
Wetkas: "I cannot say that. I didn't investigate exhibit 11."