ICPC Begins Arresting Civil Servants Living Beyond Their Means, Seizes 61 Houses From One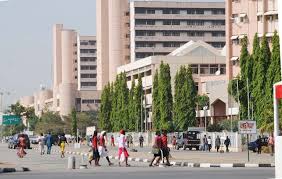 The Independent Corrupt Practices and Other Related Offences Commission says it has begun arresting civil servants who live beyond their means, adding that it seized 61 houses from one female public servant.
The commission also revealed that it would soon begin publishing a list of the most corrupt Ministries, Departments and Agencies.
The Chairman of the ICPC, Mr. Ekpo Nta, said this while addressing participants of the National Institute for Policy and Strategic Studies at the Abuja headquarters of the agency on Friday.
Speaking on the theme, 'The role of the ICPC in the War Against Corruption: Mandate, Strategies and Challenges', the ICPC boss said, "We are developing scorecard like Transparency International which rates countries as to the level of corruption of countries. We have developed one for ministries departments and agencies. Hopefully, we know those who will take the first prize."
Nta added that once the 2016 Budget is passed, the ICPC would begin monitoring how monies are being spent.
He revealed that the commission had begun prosecuting public servants that live beyond their means.
"From one of the employees of one of the organisations, we seized about 61 or 62 houses in an estate. The matter is in court so I can't say too much but I want to say that the officer was not a man. We do prosecution but also try to seize the assets acquired (through corrupt means) so that apart from prosecution, we can strip you of the assets within and outside the country," he said.
Nta said the ICPC is also investigating university lecturers who demand sex from female students in return for good grades.
He said even though it was the role of the police to investigate cases of sexual harassment and rape, it was also the role of the ICPC to investigate cases bordering on abuse of office.
Nta said, "We have special teams that investigate universities here. Quite a number of students that have spent more than the statutory period, like young girls who have spent eight years for a four-year programme because they refused to do what should not be done. We got involved and they have graduated and we are still looking at the possibility of prosecution."