"Stop Misleading The Public" – Kwara State Denies Paying Salary To Saraki After Leaving Office As Governor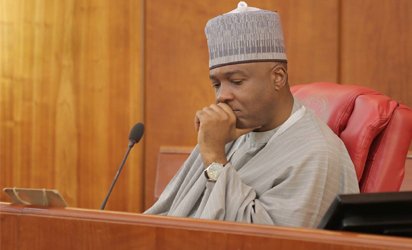 The Kwara State Government has denied claims by the Economic and Financial Crimes Commission that the President of the Senate, Bukola Saraki, received salary for four years after he served as governor of the state.
The EFCC had on Wednesday told the Code of Conduct Tribunal that Saraki kept drawing salary from Kwara Government after he left office in 2011 and had been elected senator.
In a swift reaction, Kwara state, in a statement by the Secretary to State Government, Isiaka Gold, on Wednesday, denied the EFCC claims, saying it has only been paying Saraki's pension since he left office adding that the last amount it paid him as salary was N291,474.00 meant for May, 2011 – his last month in office.
"From June 2011, former Governor Saraki started receiving his pension which was N578,188.00 as other past governors in the country," the statement read.
"After the review of pensions of former political office holders by the State Pension Board, the former governor's pension increased to N1,239,493.94 monthly from October 2014 to date.
"Kwara State Government, therefore, dismissed as false and misleading the allegation that former Governor Saraki was receiving salaries after the expiration of his two-term tenure as governor of the state."
The statement "advised interested stakeholders to seek clarification from appropriate authority to avoid misleading the public."
The EFCC official, who testified at the CCT, said, "In the course of our investigation, we wrote to Access Bank for them to give us details of the salary account of the defendant. The salary that was coming into the account was N254, 212 as of 1 August 2007.
"As of June 3, 2011, the salary was N291, 124. On July 4, there was another payment with the narration Kwara State Government (KSG) June 2011 salary. The amount was N572, 286.
"On August 29, 2011, there was another payment in the sum of N744, 002 from the Kwara state government.
"On September 29, 2011 there was another payment of N743, 942 with the narration salary payment from KSG.
"On October 27, 2011, there was another payment of N1, 165, 468 for salary.
"In November 2011, there was payment of the same amount. The narration was December pension.
"On February 1, 2012, there was payment of the same amount with the narration for pension.
"The salary payments stopped in this account on August 31, 2015. The defendant left office on May 29, 2011, he became senator in the same year."