Nasir El-rufai Clears The Air On The Controversial Religious Bill Aimed At Checking Activities of Preachers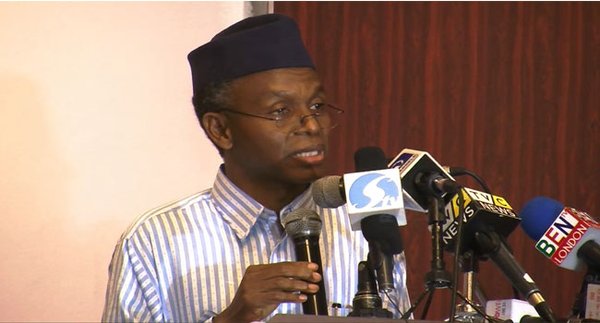 Estimated Reading Time: <1
The Kaduna State Governor, Mr Nasir El Rufai on Wednesday cleared the air on the controversial bill aimed at checking the activities of preachers in the state, which has generated controversy among Muslims, Christians and legal practitioners.
Speaking on Sunrise Daily, a Channels Television flagship programme, the former minister said, "The reason behind it (the Bill) is simple. Here, in this state, we have lost thousands of lives, billions of property, plus total communal division because of the abuse and misuse of religion", he noted.
He recalled one of the first clashes recorded in the state caused by a pastor, "Rev Bako", using a Quran to preach in 1987 in Kafanchan, an action which upset Muslims, resulting in clashes that spread to Kaduna, Zaria and Funtua.
He added that "we have lost more people from the speeches of religious leaders than from anything in this state and we believe that there is a need for us to know who is preaching, so the person knows he is being watched and watches what he says.
"Religious leaders are supposed to unite", he maintained, wondering why someone will attack another religion while preaching his own.
"This is what we wanted to regulate and this law has been in the statutes book. It was first enacted in 1984 after the Maitatsine crisis and variously amended by various governors in reaction to various crisis that have happened in this state".
The Governor went down memory lane to list clashes caused as a result of preaching by individuals who have little or no knowledge in Islamic jurisprudence forcing the authorities to step in.
"Are we going to wait, as political leaders, until lives are lost before we do something? ", he asked.
The Governor noted that it is the present security challenges that prompted his administration to update what has been in the statutes book since 1984 to accommodate new technologies.
"What we want is that when you are preaching in your Mosque/Church, you must have gone through a process of education and training that the Christian Association of Nigeria/Jama'atu Nasir Islam is comfortable with, then we give you a license".
"We will watch you for a year. We have security agents that attend sermons and church services that report to us if you are preaching hate, because the issue in Kaduna is the issue of hate", he said.