PDP Senators Perfecting Plans To Produce The Next Senate President As Saraki's CCT Trial Begins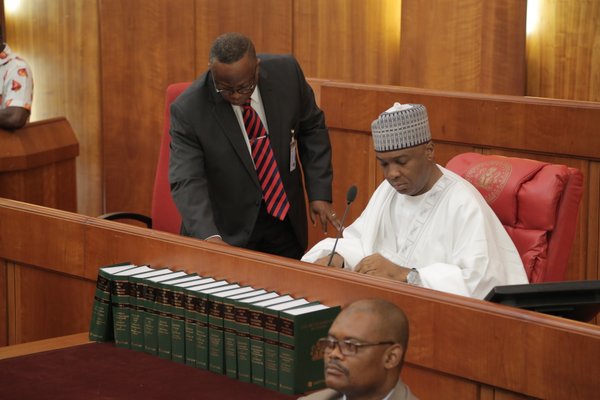 Estimated Reading Time: <1
The Chairman, Senate Committee on Niger Delta Affairs, Senator Peter Nwaboshi, said the opposition Peoples Democratic Party, PDP would produce the next Senate President as soon as Bukola Saraki is removed as a result of his trial at the Code of Conduct Tribunal.
He said, "Should the incumbent, Senator Abubakar Bukola Saraki, is forced to vacate the office, we have perfected necessary arrangements to take over the upper chamber."
He said the PDP was ready to replicate the current system in the United States of America, where the Republicans are in charge of the parliament, while the Democrats are in control of the executive.
He said, "Well, I wish the APC the best of luck if they are on a wild goose chase. But I want you to mark what I am saying. I was the first to address the press in Port Harcourt and I told them that Saraki was going to win the Senate Presidency and I gave them my reasons.
"Then, nobody ever thought that Saraki was going to win. People were saying that APC had decided. But it was clear to me that he was going to win and I had to address the press. Eventually, we went there, he won. If, but God forbids, because we don't see it coming, by chance, Saraki is removed, I can tell you that the PDP will produce the next Senate President."
Speaking on how the PDP intends to get the support of other lawmakers to produce the next Senate President, Nwaoboshi said, "We only need three and we have them."
He added, "The calculation is very clear to me; the calculation is very clear to the PDP. When I told them that Saraki was going to win, I did a lot of mathematical calculations based on the facts on the ground and it is even clearer to me now that the PDP will win it.
"If anybody is thinking that a PDP man is going to vote against a PDP candidate, he is telling you a lie. We have people and we know how to get the people from the APC. We will win and that will be very interesting. What is happening in America is going to happen in Nigeria. America has a Republican Senate but the executive is led by Democrats.
"In any case, my party, the PDP, we have resolved in our meeting to support him (Saraki). So, there is no basis for him to resign."
However, senators, elected on the platform of the APC, are not taking the plot of their PDP colleagues lightly as they held a meeting last week in the house of a former Sokoto State Governor, Senator Aliyu Wammako, in Abuja.