APC Lacks Capacity To Move Nigeria Forward, Says Ken Nnamani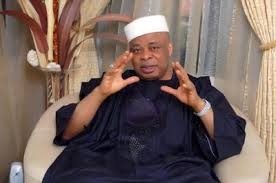 Estimated Reading Time: <1
Former Senate President, Senator Ken Nnamani, has slammed the ruling All Progressive Congress (APC), saying that it lacked the ideas, capacity and strategy to move the country forward owing to the daunting economic challenges confronting the country.
Nnamani who made this observation at the public presentation of a book titled 'Zoning to Unzone, the Politics of Power and the Power of Politics in Nigeria", also advised the incumbent administration to focus more attention to development issues.
According to him, rather than the current trend of tarnishing the image of the country at global stage, as well as its continual blame of previous administration for the woes of the nation, it should focus on developing the country.
The former parliamentarian, who was represented at the occasion by former governor of Imo State, Chief Ikedi Ohakim, further counselled the current administration to pay less attention to the pains the imperfection of the past had inflicted on the nation and direct its energy in improving the socio-economic life of the citizens through good-oriented projects.
On his part, the former President of Nigerian Bar Association (NBA) and the book reviewer, Chief Olisa Agbakoba (SAN), observed that Nigerian politicians had demonstrated, over time, that they lacked the capacity to manage the diversity in the country as they, often times, hid under the guise of ethnicity to achieve their selfish interest and cover their inadequacies.
He also faulted the system of government operations in the country today, arguing that Nigeria was not a federation as too much power was concentrated at the centre, thereby rendering the federating units impotent in terms of development.
The legal luminary noted that the Boko Haram insurgency, Niger Delta debacle, as well as the Biafran struggle, were political problems and unless something was done to restructure the Nigerian federation, innocent lives of leaders of these agitators and their followers would continue to be lost.
The author of the book, Sir, Mike Ozekhome explained that the book was centred on a need to recognise the right of minorities across the 36 states of the country to give them a sense of belonging in a nation they call their own.
He further said that he was inspired to write the book by comment made by a legendary politician, the late Chief Kingsley Ozumba Mbadiwe, when he said that, 'Nigeria needs to unzone to zone'.