Missing 2016 Budget: APC Leader, Bisi Akande Says Saraki Led Senate Lacks Discipline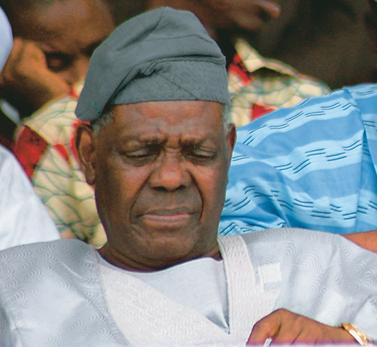 Former national chairman of the All Progressives Congress (APC), Chief Bisi Akande, on Saturday, expressed disappointment with the leadership of the Senate over the alleged missing 2016 budget, saying such development was the fallout of the indiscipline that produced the current Senate leadership.
Speaking at his residence in Ila-Orangun during an event organised to mark his 77th birthday, Akande lamented that it was ridiculous for an important document such as Nigeria's budget to be missing in the upper chamber of the National Assembly, noting that his party was mindful of the consequences of allowing wrong people to be at the helm of affairs, which was the reason the party wanted disciplined individuals to lead the Senate.
But in a swift reaction, the Senate said it was regrettable that a man of Akande's status would respond to mere speculations without cross-checking his facts or worse still be eager to latch on to any opportunity to bring the leadership of the Senate to disrepute because he failed to get his choice candidates elected to lead the Senate.
In a statement by its spokesman, Senator Aliyu Sabi Abdullahi, the Senate urged Akande to check his records properly so that he could see that "at no time did the Senate say the 2016 budget was missing".
Rather, Abdullahi noted that the upper chamber had insisted in several official statements and press interviews by its principal officers that the budget was not missing but that two different versions are now available.
Akande had stated that "Nigeria's budget is a huge document and one wonders how such document of that size could be missing in the Senate. The development is the fallout of indiscipline that brought the current leadership of the Senate into the position and as you know, that was not the choice of our party."