Dwindling Resources: Mimiko Promises That Ondo Won't Sack Workers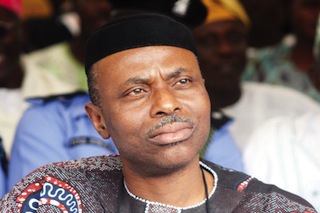 Estimated Reading Time: <1
Ondo State Governor, Dr. Olusegun Mimiko has said that the State government under his watch has no plan to sack its workers while stressing that he will not condone laziness at any level.
Mimiko made this known on Monday while addressing a large congregation of Ondo state workers at the First Working Day Prayer held at the Governor's Office Akure.
He said in spite of the present economic indices in the country that his administration is committed to good governance and prudent management of human and material resources.
"We will not retrench workers in 2016, in spite of the present economic challenges. Our government will continue to manage available resources" Mimiko said.
The governor also urged workers to diversify and find alternative means of livelihood in addition to the regular work they do either in subsistence agriculture or any other small-scale businesses reiterating that government is planning to organize workshops on entrepreneurship.
He revealed that over 200 Agro-preneurs will be graduating from the 4 Agro-Business Cities across the state this year stating that the programme has empowered them to be self reliant and job providers. He also said it is exciting that the chickens being sold at the Shoprite Akure come from the state Agro-Business Cities.
Mimiko concluded by saying God has made Ondo a cynosure of all eyes among states in Nigeria citing examples of states that have come to understudy some of its programmes including the Mega Primary schools and Abiye Safe Motherhood initiative.