"I Will Continue To Criticise The "Anti-People Policies" Of Nasir el-Rufai" – Senator Shehu Sani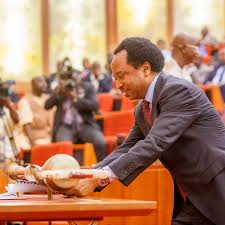 Estimated Reading Time: <1
Shehu Sani, the lawmaker representing Kaduna central senatorial district at national assembly, says he will continue to criticise the "anti-people policies" of Nasir el-Rufai, governor of Kaduna state.
Sani's rumoured ambition to be governor of the state in 2019 has been rocking the state chapter of the All Progressives Congress (APC), leading to his suspension from the party on Monday, although there are now reports that the suspension letter was forged".
And speaking with NAN in Kaduna on Tuesday, Suleiman Ahmed, his special assistant on politics and ideology, said nothing would deter his principal from criticising the current governorship regime.
"This letter is not relevant; it has no value to us. This letter will energise him the more; it will strengthen his resolve to criticise the government of the state if it goes wrong," he said.
"The senator will continuously criticise any policy that is anti-people up to the end of his tenure in the senate and beyond.
"So if you feel that the senator should not criticise the government of the day because he is part of the party that brought the current government to power, then when he comes out to re-contest in 2019, do not vote for him.
"He will criticise the government, whether or not he comes back as a senator in 2019. This is because Sani has been consistent in his criticism of anti-democratic processes and elements, he did not start his criticism in the current democratic dispensation.
"He has been doing criticism of anti-people policies right from the military era. That's what has caused his imprisonment on several occasions."
Ahmed said Sani would consider seeking legal redress if served with a genuine suspension letter in line with standard procedure.
He explained that the ward executives had invited the senator to the ward office to defend himself against some allegations levelled against him, but barely 24 hours after receiving the invitation, the ward office of the party sent a suspension letter to him.
"This is a clear violation of standard procedure in line with the party's constitution, which renders the letter invalid," he said.
Meanwhile, the Chairman of the party in Makarfi Local Government Area, Malam Tukur Abba, has condemned the alleged suspension of Sani.