Falana Petitions EFCC, Demanding The Probe Of Okonjo-Iweala, Dasuki Over Diversion Of $4bn Abacha's Stolen Funds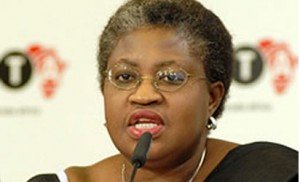 Estimated Reading Time: <1
A legal luminary and human rights activist, Mr Femi Falana (SAN), has urged the Economic and Financial Crimes Commission (EFCC) to investigate how $4 billion recovered from former military Head of State, the late GenSani Abacha was spend by the federal government.
Specifically, Falana wants the EFCC to confirm the actual amount recovered from the Abacha loot by the federal government and the extent of the criminal diversion of the said loot by the former Minister of Finance, Dr. Ngozi Okonjo-Iweala, former National Security Adviser (NSA), Col. Sambo Dasuki and other suspects.
Falana made this request in a petition dated December 18, 2015 and sent to the EFCC. A copy of the petition was made available to newsmen.
Speaking on the propriety of the probe, Falana said, "Unless the Abacha loot is fully accounted for, the Buhari administration will find it difficult to receive the cooperation of many governments in the ongoing efforts to recover the stolen wealth of the country.
"Following the death of Abacha on June 8, 1998, his successor, Gen Abdulsalami Abubakar ordered a probe into the looting of the Central Bank of Nigeria from 1993-1998.
"At the end of the enquiry it was established that the late dictator stole about $5billion from the vaults of the CBN through his NSA, Mr. Mohammed Gwazo. A substantial part of the stolen fund has since been traced to over 140 bank accounts in Western countries and some remote islands in the world.
"Based on report of the investigation the Federal Government recovered $635 million, £75 million, DM 30 million and N9 billion as well as several vehicles and properties in Abuja, Lagos and Kano together with 40% interests in West African Refinery in Sierra Leone.
"At page 495 of the second volume of his book entitled "My Watch" former President Olusegun Obasanjo stated that "…by the time I left office in May 2009 (sic), over $2billion and £100 million had been recovered from the Abacha family abroad, and well as N10 billion in cash and properties locally.
"Under the Goodluck Jonathan administration, the recovery efforts continued and over $1billion was recovered.
"But in a desperate bid to cover up the gross mismanagement and criminal diversion of the Abacha loot, Okonjo-Iweala had repeatedly maintained that only $500million had been recovered by the federal government.
"To lend credence to the fraudulent claim, the World Bank confirmed, in a reply to an enquiry by SERAP, that the $500million recovered from the loot had been judiciously spent on some phantom development projects in several parts of the country.
"But following the recent revelation by the Premiumtimes that a substantial part of the loot had been criminally diverted, Okonjo-Iweala admitted that she transferred $322million from the Abacha loot to Dasuki to prosecute the war on terror.