Dominica Suspends Dealings With Diezani Over UK Probe In Connecting With Alledged Money Laundering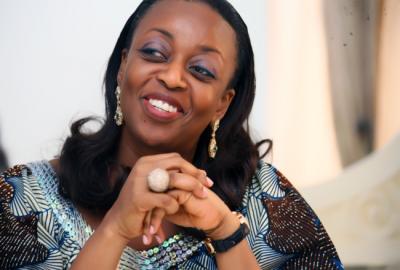 Estimated Reading Time: <1
A Caribbean country, Dominica, has suspended all relations with Nigeria's immediate past Minister of Petroleum Resources, Mrs. Diezani Alison-Madueke, following investigations into her finances in the United Kingdom in October, in connection with alleged money laundering.
A statement by the Prime Minister of Dominica, a small Caribbean Island, Mr Roosevelt Skerrit, stated this on Monday.
The prime minister said, "The Ministry of Foreign Affairs moved with dispatch to suspend all relations with Mrs. Alison-Madueke immediately following her arrest in October, 2015, pending the outcome of the investigations.
"This suspension took place in the month of October. Our position is that the relationship with Mrs. Alison-Madueke and all that flows from this will remain completely suspended until such time as the probe into her conduct as a minister of government is concluded and a determination made by the relevant authorities."
Skerrit explained that in May of this year, during a routine stop-over visit to London, Alison-Madueke was introduced to him as the immediate past Minister of Petroleum Resources in Nigeria and also the immediate past President of the Organisation of Petroleum Exporting Countries.
He said the discussions, however, took place well before any question of an investigation by the relevant authorities arose.
He said the idea of relocating to Dominica was never discussed, far less agreed, in any discussions with Alison-Madueke.
The prime minister added, "She served as an Executive Official and Director of Shell Petroleum Development Company in Nigeria. In my budget address to the people of Dominica two years ago, I outlined the intention and policy of my government to recruit persons of experience, influence and integrity to serve and represent Dominica in various capacities abroad.
"As a small nation with very limited resources, we do not have the capacity to establish consular or other offices in many regions of the world. In this case, who is better to speak for and on behalf of Dominica in parts of the African continent than a former President of OPEC and former Chairman of the West African Gas Pipeline Authority?"
According to him, the issue of the former Nigeria's minister relocating to the Caribbean country was not discussed.
He stated, "The arrangement of Mrs. Alison-Madueke serving in an honorary capacity, with no direct remuneration from Dominica and Dominica facilitating her travels across Europe and Africa with the issuance of a diplomatic passport, was entirely in accordance with existing convention, protocol and practice, until the very recent and unexpected development of the investigations by the UK and Nigerian authorities.
"This development was not foreseen nor anticipated by the due diligence undertaken on behalf of the government, and could not have been and was not foreseen by me or the Government of the Commonwealth of Dominica."