House Of Reps Speaker Dogara Says – "It Will Be A Disaster If APC Fails Nigerians"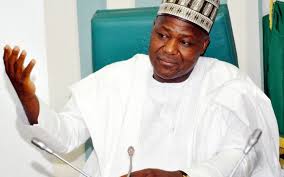 The Speaker, House of Representatives, Yakubu Dogara, has urged the All Progressives Congress (APC)-led Federal Government to make conscious efforts to fulfil its promises to Nigerians.
Dogara-HouseDogara made the call when Gov. Mohammed Abubakar of Bauchi visited him on Thursday in Abuja.
He said that it would be a disaster if the government failed Nigerians.
He said that it was the yearning of the people for a positive change in their lives that led to the massive support the party received in general elections.
"Our people have witnessed bad leadership, especially in the ?last eight years; it will be a disaster if we don't save this situation,'' Dogara said.
He stated that Bauchi was a typical example of a situation where the people gave overwhelming support to the APC in all the elections into the two arms of government, because they looked forward to a better life under the ''change'' regime.
"Everybody knows the passion of our people in Bauchi State; they embraced us against all odds, against the sitting governor, because they feared the kind of situation in which they found themselves under the last regime.
''They needed change and thank God we came with this promise of change,'' he said, adding that the platform had been established to deliver the change?.
"It now behoves on us to pull our energies together, synergize and to ensure that these people that the president has appointed help to ameliorate the conditions of our people,'' Dogara said.
He urged the governor to ensure that he brought together all Federal Government appointees from Bauchi in order to harness their resources for the progress and development of the state.
"If there is no leadership, this will not happen, and the difference between a bush and a garden is just organisation.
"If you have a ?wonderful garden and you don't organise it, over time it will become a bush in itself.
"That therefore means that without leadership, we will not even come together, let alone bring our resources and strength together to improve the conditions of our people," he added.