"Social Media Space Needs Clean Up" — APC Leadership Reaction To Anti-social Media Bill Supports Senate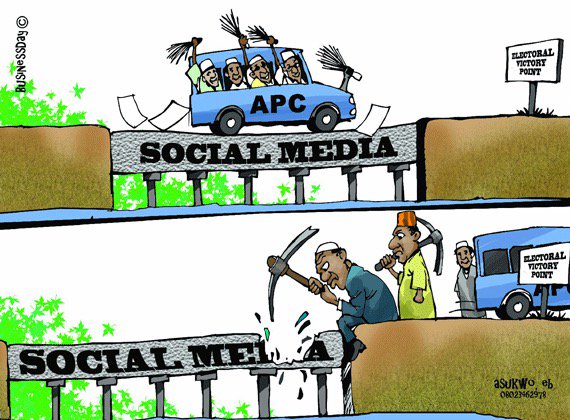 Chairman of All Progressives Congress (APC), Chief John Odigie-Oyegun, says the social media space needed clean up as the use of outright abuses and insults instead of constructive criticisms was wrong.
Oyegun reactions came as the Nigerian Senators plots to send social media users to jail for two years if government deems a social media post or petition, "false" . The bill,tagged: "A Bill for an Act to Prohibit frivolous Petitions and other Matters Connected therewith", sponsored by Senator Ibn Na'Allah, APC, Kebbi South, compels petitioners to accompany their petitions with sworn court affidavit, failure of which attracts a six- month imprisonment upon conviction.
But the bill provides for an option of N4 million for persons convicted of false newspaper,radio and television statements and N2 million for offenders of false phone text messages or messages on facebook,twitter,instagram,or whatsApp.
"Where any person in order to circumvent this law makes any allegation and or publish any statement,petition in any paper,radio,or any medium of whatever description, with malicious intent to discredit or set the public against any person or group of persons, institutions of government,he shall be guilty of an offence and upon conviction,shall be liable to an imprisonment term of two years or a fine of N4,000,000.00",the bill specified.
Odigie-Oyegun said this in Abuja on Wednesday in an interaction with newsmen.
He said that the party's stance on the controversial Bill for an Act to Prohibit Frivolous Petitions and Other Matters known as the anti-social media bill was known.
"The social media space needed clean up as the use of outright abuses and insults instead of constructive criticisms is wrong".
He also said James Faleke will be replaced as deputy governor-elect should the need arise.
On subsidy, he said: " whether subsidy goes or stays is an intricate and major issue.
''If it has to go, the government must have to construct the palliatives to cushion the effect of the hardships that may come on the ordinary Nigerian.
"Anyway, eventually, subsidy will have to go but we have not reached that stage yet.
''You cannot just wake up and announce that subsidy has been removed without putting the adequate programmes in place to cushion the negative aspects that may be involved.''
The chairman told the newsmen that minimum wage was a delicate issue because there were a lot of forces at work.
"The economy was run aground so badly that they have to borrow to pay salaries and this was not the creation of APC.
"Today all governments are borrowing to pay salaries and that cannot be sustained. What the solution is on the longer term, the machinery of governance is still working on.
"There is no method that is adopted that will not create stresses on any system but at the end of the day, we will find an answer,'' he said.
On Bayelsa election outcome, Odigie-Oyegun said that the party was not satisfied but said that since INEC had made a pronouncement on it, the option the party had was to accept it or go to court.
''We are waiting for the processes to be concluded, but I must say we have a lot of reservations about what has gone on up till the present moment.
"If we win as we expect to win, the kind of reactions that we'll take will be different,'' he said.