Adekoya Boladale: This Social Media Deserves To Be Banned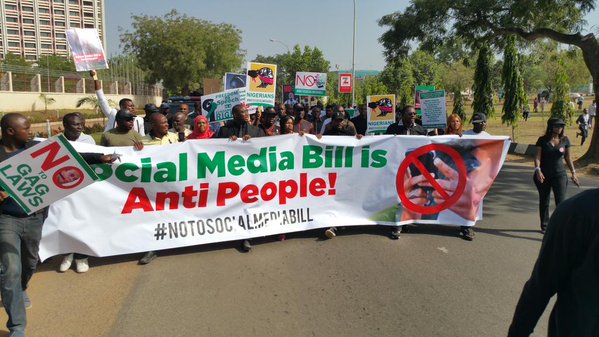 "Hopefully, someday we will get tired of this attitude of voting people out and start focusing on voting people in" – Ayodele Sogunro
One of the identified problems militating against our development as a country is not just the absence of qualitative leadership but lack of intelligent electorates. For a nation far behind its peers in political and economic development, the desire to see Nigeria develop and take the vacant throne of leadership in Africa is prevalent in the international community.
But while this desire engulfs the outside world, same cannot be said of the citizens and residents of the country who continue to lament over its socio-economic woes of dilapidated infrastructure, epileptic power supply and decades of failed and buried campaign promises. Rather than pursue a collective goal of electing public officers using credibility, track-record and proven integrity as yardstick we take the usual road of partisanship and defensiveness.
If there is a lesson the year 2015 taught me, it is the fact that Nigerians are the most hypocritical set of individuals who will support any individual for personal benefits no matter how questionable such individual is. Today, I reminisce on the campaign of Dino Melaye and his fellow Senators at the Nigerian Senate and I remember how some of my friends, associates and compatriots who due to partisan line advocated for their emergence simply because they are members of the All Progressive Congress (APC).
There is a class war in politics and the sooner we realized it, the better for the prosperity of our country. The public office is not between APC and PDP, North and South, Hausa, Igbo and Yoruba, Women and Men but between just two classes of people; we the people and the rulers.
Today, I wholeheartedly support a ban on this current social media in Nigeria. I support a ban on the Nigeria social media where mediocrities are praised and excellence slaughtered. I support a ban on the social media that advocate civil agitation against failed government policies of an administration and quickly jump in defense of same atrocities from a fraternal fellow.
I join in support of a ban on the Nigeria social media where it is a sin to speak against an Aregbesola but wise to condemn the actions of Wike. I join in support of a ban on the social media where it is a sin to talk about being robbed in Lagos but comforting to talk about the potholes on Enugu roads.
This social media, where development of the country comes second to partisanship, ethnicity and religious differences should be banned. A social media where influencers are cashtivists but advocates activism should be banned. A social media where it is suddenly illegal to demand performance from political office holders because they are members of a political party should be scrapped.
We need a new social media: one far away from the reach of the Sarakis and Dino Melayes of this world. One that takes no prisoners, not answerable to any pay masters and not a cash tool for some individuals. Where discussions would be based on holding every public officer accountable irrespective of the party such fellow belongs to. Where emergency activists with the motive of personal benefits are not suddenly crowned king, praised and given accolades. Where uploading forged document of public officers and facts on fraud would be seen as a heroic act and not the work of 'an enemy of progress'
Nigerians need to stop electing idiots into power. We need to orientate ourselves of the need to shun emergency activists like Dino Melaye who just few months ago was gallivanting across media space as the new messiah of democracy, advocating press freedom and freedom of expression only to wake up one day after getting elected to dismantle the very bridge on whose back he rode to prominence.
When we have a new social media where citizens act as checks to public officers and not worshippers of them, one Senator will not wake up from the wrong side of his bed or after a sweaty sexcapade with his wife or concubine and vomit such nonsensity as ban.
________________________________
Boladale is a public affairs analyst, political commentator. He is on twitter @adekoyabee.
Disclaimer
It is the policy of NewsWireNGR not to endorse or oppose any opinion expressed by a User or Content provided by a User, Contributor, or other independent party.
Opinion pieces and contributions are the opinions of the writers only and do not represent the opinions of NewsWireNGR.