APC Behind The Crisis That Led To Deaths Of 9 & Injuries Sustained By 18 Says Pro-Biafra Agitators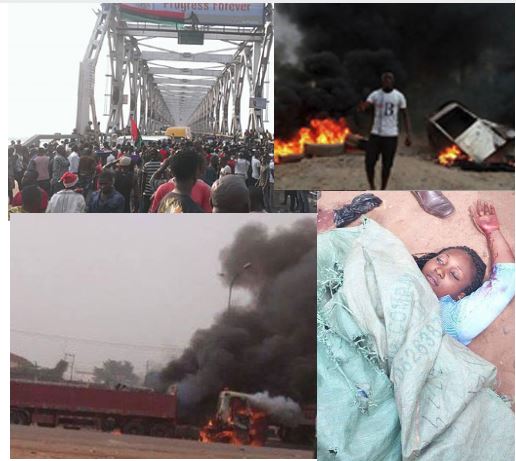 Estimated Reading Time: <1
Following  the killing of nine of its members, Wednesday, in Onitsha, the IPOB, also yesterday alleged that the All Progressives Congress, APC, was behind the crisis that led to shooting to death of nine people and injuring of over 18 people that sustained various degrees of injuries at the Niger Bridge Head Onitsha and other parts of Onitsha and its environs.
Spokesman of IPOB in Anambra State, Mr. Emma Powerful disclosed this while addressing newsmen in Onitsha, saying that it was a calculated plan by the APC government in the country which became unsettled with their peaceful and non- violent protests in South East, and had been looking for a way to provoke violence in their protests to justify the continued detention and incarceration of their leader, Mr. Nnamdi Kanu.
The IPOB's spokesman gave the names of some of the IPOB members that were shot dead, Wednesday, morning as Chima Onoh, from Enugu state, Kenneth Ogadinma from Abia State, Angus Chikwado and Felicia Egwuatu from Anambra State, including another, he said they got information was killed in Idemili side of Anambra State late Wednesday evening.
He also said that the JTF killed a young lady that was later identified as Nkiruka and tried to take her corpse away.
An eye witness, who took some photographs told Vanguard that he was in his office watching as JTF men were shooting sporadically at Obodoukwu Road by Nigerian Customs Service Onitsha.
He said Nkiruka is from Adazi Nnukwu in Anaocha Local Government Area of Anambra State, a 200 level student of Federal College of Education Technical, Umunze and the only daughter of the family.
"Nkiruka was coming from Nigerian Customs Service by Asaba Onitsha Enugu expressway towards Obodoukwu Road and on hearing gun-shots, she ran into a restaurant and one of the JTF members shot her dead and was about taking her corpse away when her family came with an ambulance and spoke with the JTF men who later released the corpse to them."
However, the police from Anambra State had denied any killing by the JTF through the Police Public Relations Officer in the state, Mr. Ali Okechukwu.
Meanwhile, the Movement for the Actualization of Sovereign State of Biafra, MASSOB, yesterday, dissociated itself from the violence being perpetrated by IPOB, which had resulted in the killings and destruction of property.
Speaking to newsmen in Asaba, zonal leader of MASSOB in Delta North, Mr. Chinedu Amaifeobu, said MASSOB was not a violent group and condemned the acts of violence being perpetrated by the IPOB.
Amaifeobu said: "MASSOB is not in support of the killings and destruction of property. We are not against any group in Igbo land but would not support killing of innocent people and destruction of property. "
Disclosing that there was no faction in MASSOB as allegedly being speculated by one Uchenna Madu, he said Mr. Raph Uwazuruike remained the founder and leader of the group worldwide, alleging that the said Uchenna Madu was sacked from MASSOB since last year for misconduct and his group was the one terrorizing Onitsha.
Amaifeobu expressed confidence that they would actualize Biafra without violence and urged the media to reach out to them in any of their offices for verification of information concerning MASSOB before going to press.
Insisting the group had offices in all parts of the Biafra zone, he held that MASSOB under the leadership of Uwazuruike was committed to the Biafra struggle.