Annkio Briggs Says Niger Delta Want To Control Their Resources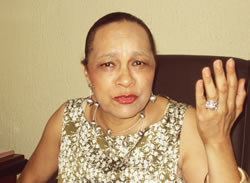 Estimated Reading Time: <1
Annkio Briggs, an activist, is the converner of Niger Delta Self-Determination Movement. Briggs, in this piece, speaks on why she is calling for self-determination for her people.
You said the Niger Delta wants self-determination and yet you said you want compensation. Can you be fighting for freedom and asking for compensation at the same time?
I don't see the difficulty in what we asking for. Nigeria is being governed according to the 1999 Constitution and whatever we are doing, within the law, is based on that Constitution. What we are demanding for, which the same Constitution guarantees, is our right to demand for those things. In terms of the compensation for the destruction of our livelihood, the Nigerian government, in partnership with oil companies, is responsible.
The state governments are not part of this business, it is the Federal Government, in conjunction with the oil companies, that has devastated our region, and whatever devastation they have done, it is important to ask for compensation even as we are demanding for self-determination and the control of our resources. In our requesting for self-determination, ownership of our land and resources is a basic right. We have been demanding for it for years now.
So, the two issues are extremely important such that one cannot override the other. This self-determination struggle will give us the opportunity to exercise our right to autonomy or self-government in matters relating to our local affairs, including determination of membership, culture, language, religion, education, information, media, health, housing, employment, social welfare, maintenance of community safety, family relations, economic activities, lands and other natural resources management (onshore and offshore), our environment and entry by non-members, as well as ways of financing our autonomous activities, as this will enable us develop and grow at our own pace without any further interference, under any form, style or guise.
It is antithetical for President Muhammadu Buhari, with all due respect, to call for self-determination for the Palestinian people and those of the Western Sahara, on behalf of Nigerians, and to oppose or criminalize the demand for the same self-determination by the indigenous peoples of the Niger Delta.