APC Reps Members Fight Dirty, Exchange Blows Over "Juicy" Committee Slots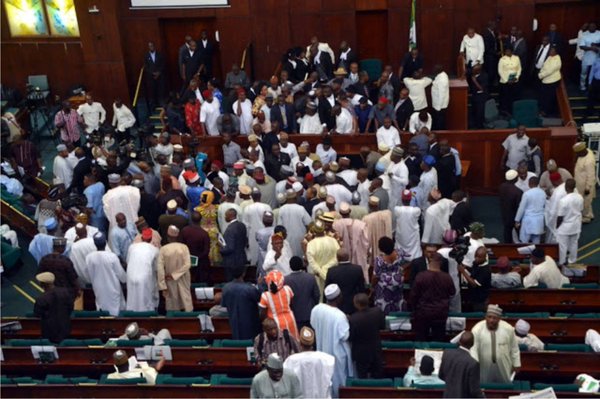 Estimated Reading Time: <1
The crisis rocking the House of Represen­tatives over alloca­tion of Standing Commit­tees yesterday deepened as lawmakers on the plat­form of All Progressives Congress, APC, exchanged blows.
Chairman House Com­mittee on FCT, Herman Hembe (Benue APC), who is one of the supporters of Speaker Yakubu Dogara and Aliyu Da'u Magaji, (Jigawa APC), who is a sup­porter of Majority Leader, Femi Gbajabiamila, alleg­edly exchange blows at the lobby to the Chambers, over argument on the com­position of the committees.
This was even as Gba­jabiamila escaped an im­peachment plan by mem­bers of the APC Caucus.
Magaji was said to be holding discussion with his counterparts, while Hembe stood alone, waiting for a planned APC caucus meet­ing that was meant to im­peach Gbajabiamila.
It was learnt that Magaji was lamenting the unwill­ingness of Dogara, to re­verse the composition of the House Standing, a de­velopment that reportedly irked Hembe, leading to the exchange of hot words and blows.
It was also learnt that the impeachment plan against Gbajabiamila failed, as the caucus meeting ended in quarrel.
Deputy Speaker, Sulai­mon Lasun, had to calm frayed nerves and put an end to the plot to impeach Gbajabiamila.
The Speaker, it was learnt also engaged the Ma­jority Leader in a meeting in his office, in a bid to re­store peace.
The move to impeach Gbajabiamila, it was learnt, may not be uncon­nected with his uncompro­mising stand on the com­mittee issue.
Gbajabiamila's camp had boycotted the inaugu­ration of the House Stand­ing Committees on Monday.
Members of his camp were said to have met five days ago and insisted that the Speaker reversed the committees' composition.
Ahmed Kaita (Katsina APC), who walked out on the meeting in anger, ac­cused Dogara of working with the Peoples Democrat­ic Party, PDP legislators in the House, against the will of APC and President Mu­hammadu Buhari.
"Just about five days ago, he promised to get back to the party by Monday, and it was the same Monday that he decided to flout the rules of the party.
"Yesterday, while we were having a meeting at the National Secretariat of party, texts were flying by the same group of people that do not want the APC to succeed in this House that Gbajabiamila is going to be removed today, and they ac­tually planned it.
"So we came and they couldn't do nothing. They know we have the majority, and as long as this house would be dictated to by the PDP, we would resist it.
"If Dogara wants us to be with him, fine and good, he is one of our own, and we do not have any problem with being with him.
"If only he can align him­self with our party mani­festo, and the wishes of Mr. President, he would have a smooth ride because he has majority, but as long as he would be flouting the orders of the party, as long as he would be instigating some unscrupulous members to say they would remove preferred candidates, or of­fice holders of the party, we would resist it," Keita said.
On his part, Alhassan Ado Doguwa, who is Ma­jority Whip, said there was no plan to impeach Gbaja­biamila, claiming that the House is united.
"Enough of this misun­derstanding among APC family. You are all aware of what happened yesterday where the Speaker chaired a special session to inaugu­rate the standing commit­tees.
"I want to tell you on behalf of the leadership of the House that there is no crack in the leadership whatsoever.
"Nigerians are tired of this waiting. We were elect­ed to come and do our work as members of the House of Representatives and members of the National Assembly by extension.
"I want to tell you pre­cisely that by what we did yesterday, the flight of the 8th National Assembly has taken off. It has not only taken off, it has taken off very successfully, and it's a flight that is a four year bound flight with Dogara as the pilot.
"I want to tell you that we have maintained the status quo for now and Femi (Gba­jabiamila) is our leader in the House of Representa­tives and even the specu­lation made that there is any move to remove Femi as our leader is unfounded and it is not from the lead­ership of the House or the APC.
"Look, this morning, I had a very close consultation with the leaders of our party, specifically Senator Lawan Shuiabu, who is our deputy national leader and I told him that there is no cause for alarm in the House of Repre­sentatives, that we are mov­ing forward as one.
"There is no two-way about our unity. This party was founded on unity and the House of Representa­tives as it is today is very much poised and ready to work with President Mu­hammadu Buhari to de­liver the change mantra we promised Nigerians.
"Every other specula­tion in this regard is base­less and unfounded," he said.
The infractions actu­ally led to late resumption of plenary, which started well behind schedule, as the Speaker eventually emerged from his meet­ing coming into the Green Chamber in company of Gbajabiamila.
Additional Content Credit: National Mirror