How Senate President Saraki, Convicted James Ibori Had Masterminded New EFCC Chairman's Sack, Ibrahim Magu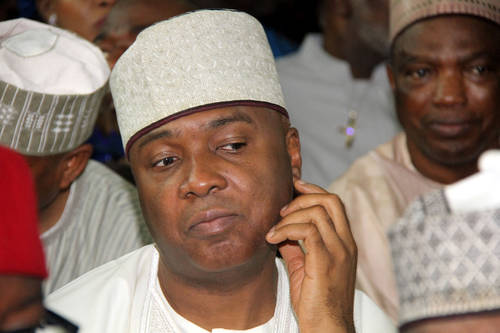 Estimated Reading Time: <1
Senate President, Bukola Saraki and former Delta Governor James Ibori had masterminded the removal of Ibrahim Magu, the newly appointed chairman of the Economic and Financial Crimes Commission, EFCC, from the anti-graft agency in 2008.
Pointblanknews reports that  Magu, then head of the EFCC's Governance Unit, had investigated Saraki as Governor of Kwara State, Ibori as Governor of Delta State and other top politicians during the administrations of Olusegun Obasanjo and Musa Yar'Adua.
Following damning outcome of his painstaking investigation of the politicians, Magu became a target and was suspended from the police and then arrested on trump-up allegation of keeping documents belonging to the EFCC in his home, according to sources familiar with his activities in the anti-graft agency.
Prior to the May 29 2007, expiration of tenure (and therefore immunity) of Nigeria's former governors, the EFCC pronounced that it would hunt down and prosecute public officials the anti-graft agency deemed corrupt. By mid-July, however, the EFCC had yet to swiftly and decisively prosecute these officials. Whether the lassitude was due to inefficiency, lack of evidence, successful prior brokering of deals with the EFCC or old-fashioned politics remains unclear, U.S States Department noted.
A United States cable obtained by Wikileaks wrote: C) On August 4, former EFCC Economic Governance Unit Head Ibrahim Magu was
reportedly arrested following searches of his Abuja and Lagos residences which reportedly found EFCC case files and a computer with classified information. Magu was redeployed from the EFCC to the Police force on July 4 (reftel) and was serving as Chief Superintendent at Ado, Ekiti State at the time of his arrest. Although press reports alleged the EFCC carried out the arrest, EFCC Secretary Akomaye told Poloff on August 6 that the investigation, search and arrest were all handled within the Police and that the EFCC (once again) could not comment on police matters.
Meanwhile, EFCC Chief of External Relations Mohammed Bamalli (strictly protect), a trusted Embassy contact within the EFCC, told Poloff he knows Magu well and cannot believe that Magu, whom he termed a "skilled professional," would keep files at home. Bamalli told Poloff he plans to meet Magu late on August 6 and will relay what he learns to Poloff. Post will report any information from Bamalli septel.
5. (C) Comment. The confluence of events in the course of a few days, with the appointment of Ibori's former Commissioner of Finance as Principal Secretary to the President, the questioning of Ribadu, Ribadu's demotion and Magu's arrest, does not bode well for the Administration's commitment to fighting corruption. The thread that runs through all of them is former Delta Governor James Ibori, the target of major corruption and money laundering probes by the EFCC and British Metropolitan police. Ibori was believed by many to be the driving force behind Ribadu's removal from the EFCC and Waziri's appointment. Antony Goldman, independent energy consultant and former Economist Financial Intelligence Unit Africa Analyst, told Poloff a few weeks ago that, during a recent phone conversation, a cheerful Ibori commented that "Ribadu will be in jail before I ever will be."