Code Of Conduct Tribunal Chairman, Danladi Umar Probing Saraki Dragged To Court For Allegedly Demanding N10m Bribe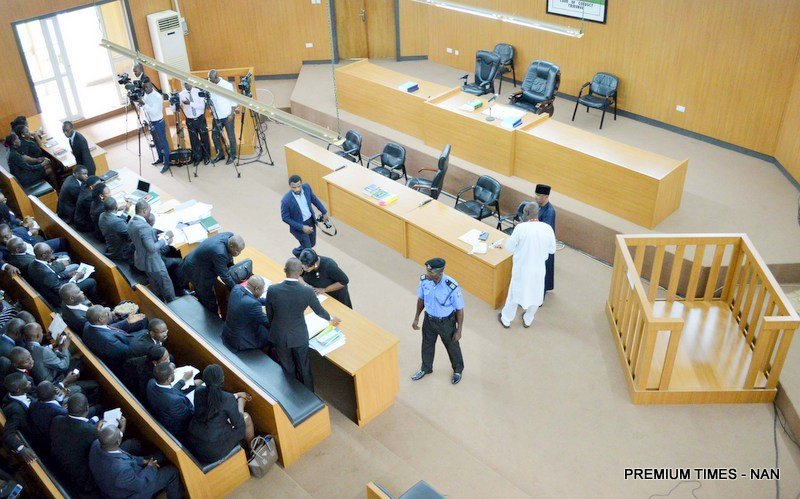 Estimated Reading Time: <1
Chairman of the Code of Conduct Tribunal, CCT, Justice Danladi Umar, has been dragged before the Federal High Court in Abuja over an allegation that he demanded N10milion bribe to quash criminal case against an accused person before him.
The suit was lodged before the high court by a non governmental organisation under the platform of the Registered Trustees of the Mission for Peace and Development Initiative, through their lawyer, Chief Mike Ozehkome, SAN.
The plaintiff, said it has documents showing that the CCT chairman, demanded a N10m bribe from a retired Comptroller of Customs, Mr. Rasheed Taiwo, to terminate further hearing on a case that was pending against him at the tribunal.
According to the group, out of the total agreed bribe, Justice Umar, through his personal assistant, one Mr. Gambo Abdullahi, received the sum of N1.8million as initial deposit.
Among exhibits the group attached to the suit included the photocopy of a cheque with which the N1.8m was allegedly paid to Justice Umar through his proxy, a copy of the statement the CCT chairman made before the Economic and Financial Crimes Commission, EFCC, where he admitted having a private meeting with Mr. Taiwo in his office, as well as the statement of his P.A Abdullahi.
Other documents the plaintiff also adduced before the court were a copy of the application with which Justice Umar was granted administrative bail by the anti-graft agency, and a letter that was forwarded to former President Goodluck Jonathan by two other members of the tribunal, Justices Robert Odu and W. Agwaza Atedze, wherein they called for a thorough investigation into the bribery scandal so as "to save the CCT from embarrassment".
The group, is praying the high court for an order compelling Justice Umar to vacate his position as the CCT chairman on the ground that he is not fit and proper to superintend over the criminal prosecution of any Nigerian, with himself having a criminal case hanging on his neck.
Joined as defendants in the suit were Justice Umar, the CCT, EFCC and the Attorney General of the Federation.