Buhari Endorsed Corruption With The Nomination Of Chibuike Amaechi As Minister PDP Says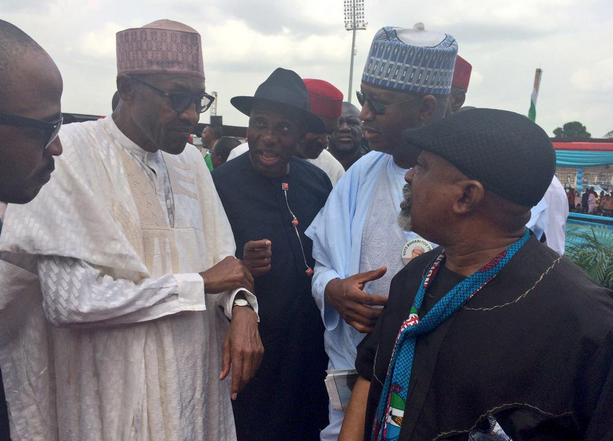 Estimated Reading Time: <1
The Rivers State chapter of the Peoples Democratic Party (PDP) has said the political intrigues which surrounded the screening of the former state Governor, Chibuike Amaechi, and his eventual confirmation for appointment as a minister by the All Progressives Congress (APC)-dominated Senate is an official endorsement of corruption and gross abuse of democracy.
The state Chairman of the PDP, Felix Obuah, in a statement issued on Sunday in Port Harcourt on his behalf by his media aide, Jerry Needam, said: "For throwing the most revered rules of the Senate and the sanctity of the laws of the land to the winds for the singular reason to compensate an indicted party member does not only amount to fait accompli but also exposes the hypocrisy of the APC-led federal government that anchored its campaign slogan on anti-corruption crusade."
The PDP said it was appalled that the Senate would confirm Amaechi as a minister "despite the monumental allegations of fraud, looting of state treasury and unprecedented abuse of trust while he held sway as governor of the state for eight 'wasted' years, as contained in the Justice George Omereji led – Judicial Commission of Inquiry and the tate government white paper which indicted Amaechi."
Obuah expressed shock that the APC senators could descend so low as to fling away the report of the ethics and privileges committee just to have their way without minding the feelings of the people they are representing, adding that that amounted to formal approval of corruption.
He, however, commended the courage of the PDP senators for staging a walk-out, which he said, was a historic statement that they were not and could not be part of the institutionalisation of corruption in Nigeria and the legalisation of criminality and sacrifice of integrity on the altar of loyalty.
Obuah insisted that Amaechi was only representing "the interests of his benefactors and definitely not Rivers people as the state prefers to suffer persecution for standing on the side of truth and what is right to being eulogised and pampered as a chief servant in a slave house."
He said: "While we look to the end of the APC-led federal government which has started on precarious feet of falsehood and deceit, we can only say that the end can never contradict its means which in this case, is suspect.
"Our regret is the APC's disservice and disappointment to the entire Nigerians whose hope of getting a better alternative government from the Buhari administration and 8th Senate has been dashed.
"It's an illusion to think that Amaechi and his like as ministers would perform anything different from what they did while they served in all other capacities."