Tinubu, Akande Meet Buhari Over Ministerial Appointments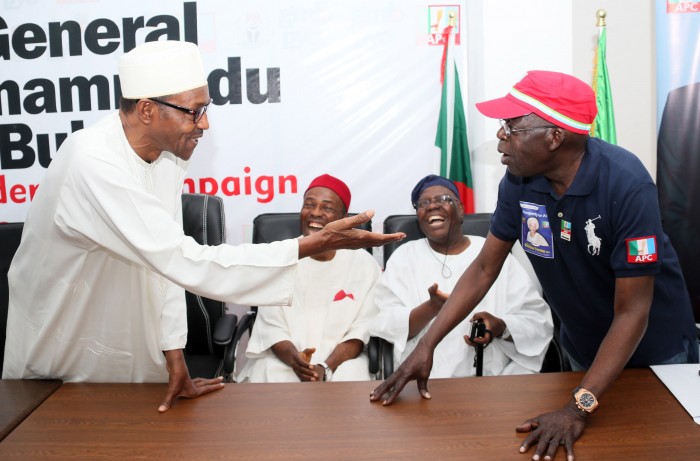 The National Leader of the All Progressives Congress, Asiwaju Bola Tinubu, and a former Governor of Osun State, Chief Bisi Akande, held a secret meeting with President Muhammadu Buhari at the Presidential Villa on Wednesday.
Addressing State House correspondents after the one-hour meeting, Tinubu, who is a former Governor of Lagos State, said he did not come to submit any ministerial list to the President.
"What can I do about that, they have the right to speculate, they have the right to their lies and I have the right to debunk," he said.
Sources say the ministerial list was one of the topics discussed at the meeting.
The source said just as Tinubu was given the power to pick Buhari's running mate during the electioneering, Buhari was giving him the privilege of filling some positions that should go to the South-West.
According to the Punch Newspaper source, "Buhari never marginalised the South-West as is being reported. Most of the northern appointments that Buhari made are those that will work closely with him in the villa and Tinubu was not really interested in them.
"It was Tinubu that recommended Babatunde Fowler to head the Federal Inland Revenue Service and that is the next best thing after oil which many people don't understand.
"Buhari has insisted that people that are answering to cases of corruption will not be part of his government and Tinubu is aware of this. He has recommended a former commissioner in Lagos for appointment too and he will be part of Buhari's economic team even if he is not appointed as a minister."
When asked how many ministerial slots Buhari had given Tinubu, the source said he could not say for sure but added that Buhari was planning to compensate Tinubu for losing out to Senate President Bukola Saraki and Yakubu Dogara during the National Assembly internal elections.