"I've Never Been A Buhari Supporter, He Scuttled Democracy & He's Here To Get Back At His Enemies." Tanko Yakasai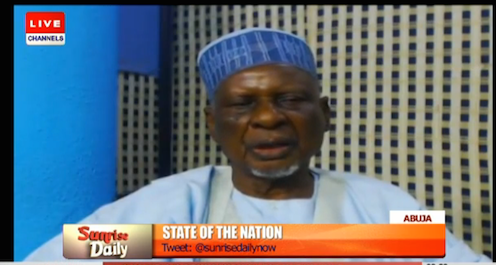 Estimated Reading Time: <1
Second Republic Politician, Tanko Yakassai Tuesday said Nigeria's President Muhammadu Buhari has never been a democrat and that he scuttled democracy, reasons he (Yakassai) hasn't been a Buhari supporter.
"I've never been a Buhari supporter. He scuttled democracy and is here to get back at his enemies." Tanko Yakasai
The second Republic Politician who was a guest on Channels Television Flagship Programme, Sunrise Daily earlier today, stated that though he wishes the Buhari administration good luck, but expressed concerns about his anti-democratic credentials.
"To arrest people, incarcerate them for two years without trial, i think its inhuman, to keep President Shagari in the house for two years even to the extent of painting the glases with black paints so he will not have the privilege of benefiting from sun light".
"You don't come into power to confront your enemies, you come into power to govern everyone even those who stood against you, they're citizens like you, you don't maltreat them, he said.
I don't see Buhari as a democrat he noted. "Till today i haven't seen anything he's done to convince me that he's a democrat".
On the President's 100 days in office, Alhaji Yakassai says what he's seen so far from the President is the "declaration of intent' as he hasn't seen anybody being arrested because of corruption since Buhari assumed office"..
He went further to state that all the cases currently being tried are those from the Goodluck Jonathan's administration. He also responded to questions about the delay in forming cabinet three months after being sworn in.
"When it came to the appointment of the Chief of Staff and Secretary to the government of the federation, it turned out to be people he knew long before he became President, so i wonder why it will take him three months to discover somebody that has been with him for 10/15 years"
Yakassai, the Kano Politician reacting to the National Assembly Crisis stated, "Im sure you're not to be told that People in the south-east are not happy with the situation in the House of Representatives, where you have two principal officers from the south-west and the south-east has none.
"I don't think any south-eastern man, whether he's an APC man or PDP man or no party man is happy with that situation".