"Deceptive Window-Dressing" – PDP Says Buhari & Osinbajo Are Yet To Declare Their Assets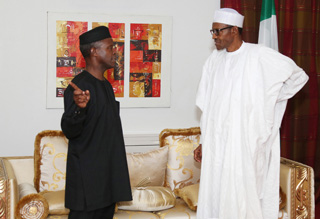 The Peoples Democratic Party (PDP) describes as "a deceptive window-dressing to hoodwink unsuspecting Nigerians" the release, by an aide of the President, of a mere list of some belongings of President Muhammadu Buhari and his Vice, Prof. Yemi Osinbajo, in place of the pledge made to Nigerians by Mr. President as candidate of the APC on March 18, 2015, at exactly 5 pm.
The party recalled that the President in his own words had stated to Nigerians that, "I pledge to publicly declare my assets and liability and also encourage my political appointees to publicly declare their assets and liability."
The PDP however, observed that President Buhari and his vice failed to produce copies of their declarations, detailing the exact nature and value of respective assets.
PDP National Publicity Secretary, Chief Olisa Metuh, in a statement on Friday said "the release of a mere list of belongings falls short of credibility, transparency and anti-corruption standards as well as exposes the proclivity of the present administration for deception."
"We have noted the release of a flimsy list of belongings of President Muhammadu Buhari and Vice President Yemi Osinbajo by the Presidency, who want such to pass as the public declaration of assets as pledged by the President.