A Nigerian Student Was Pictured Caught Cheating In An Examination Hall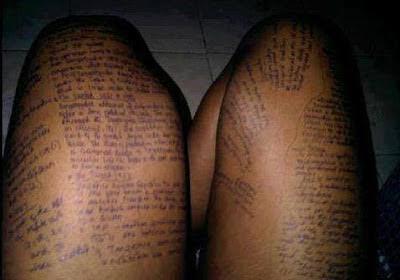 Estimated Reading Time: <1
An unidentified final year female student of Library and Information Science, Delta State University, Abraka,was on Friday caught with text believed to be answers to the questions in the exam paper, written on her thighs.
Sylvester Okiemute, an examiner who had been observing her suspicious moves, caught the final-year female student of the Department of Library and Information Science with the incriminating text while sitting for an exam on 'Entrepreneurship and Information Services'.
CityPeople gathered that the examiner, convinced that the student was making reference to a paper he smuggled in, asked her to hand over the paper. The student reportedly denied and led to a shouting match between the examiner and the student. It was gathered that the furious male examiner threatened to dip his hands into her thighs to recover the incriminating materials.
Confirming the incident, the university Vice-Chancellor, Prof. Victor Peretomode, said the university had declared total war on illegality and examination malpractices.