Nigerians You've Been Deceived, APC Also Disowns Buhari's 2015 Presidential Campaign Promises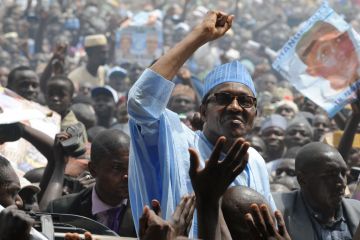 Estimated Reading Time: <1
The National Publicity Secretary of the ruling All Progressives Congress, APC, Alhaji Lai Mohammed has also denied the elaborate campaign promises made by the party on which the President Muhammadu Buhari depended on to win the 2015 general elections
In Case You Missed It, READ!!! Muhammadu Buhari's Campaign Promises To Nigerians "My Covenant With Nigerians" Being Denied By This Government….
Senior Special Adviser on Media and Publicity to President Mohammadu Buhari, Garba Shehu, had in an article on Sunday denied the campaign promises, brazenly insulting the collective reasoning of Nigerians.
Shehu wrote, "there is a certain document tagged "One Hundred Things Buhari Will Do in 100 Days" and the other, "My Covenant With Nigerians." Both pamphlets bore the authorized party logo but as the Director of Media and Communications in that campaign, I did not fund or authorize any of those. I can equally bet my last Kobo that Candidate Buhari did not see or authorize those publications".
In Case You Missed It, READ!! Garba Sehu: Understanding Buhari In 100 Days Presidency….
Speaking on Channels Television Flagship programme, Sunrise Daily on Monday, Mohammed who vehemently is denying Buhari's campaign promises almost 100 days after the party won the presidential elections said, "Buhari never promised he was going to do anything in 100 days, that's the honest truth.
"You see, when you're running a campaign all kinds of literature will emerge with all sorts of volunteer groups, but i came here and i said there are only just two documents that you can judge a party with, that is the constitution of the party and the manifesto of the party; those are the only two documents that are registered with INEC you can go to court on or hold a party accountable for".
Though the party until now failed to disown the promises but Mohammed explains, "When you are running this campaign, sometimes i open newspapers and i see adverts from groups that are unknown to the party, supporters groups of all kinds of sorts".
Before now, the President's Spokesman, Femi Adesina in an exclusive interview with Kayode Ogundamisi had also denied that President Buhari never promised to declare his assets publicly, stating that it was actually his party, the APC that made such promises.
A statement which now brings to question not just the integrity of the President, also if a Presidents campaign promises can be different from that of his party, a platform he used to get the mandate from the Nigerian people.
In Case You Missed It, READ!! Buhari Never Promised He Would Declare His Assets Publicly, APC Did Says Presidency
On appointment, Lai Mohammed said "There should be no fixation at all, on any particular office going to any particular part of the country.
"The fact that such positions went to a particular part of the country in the previous administration does not mean it must go there again"
He continued, "but i think what we should focus on is the assurance from the government that in the fullness of time, no part of this country will feel marginalised by the kind of appointment that will be made"
"I think it is too early to judge this government on 35 or 40 appointments that has been made so far"