Stop Attacking Jonathan, Northern Group Warns Oshiomhole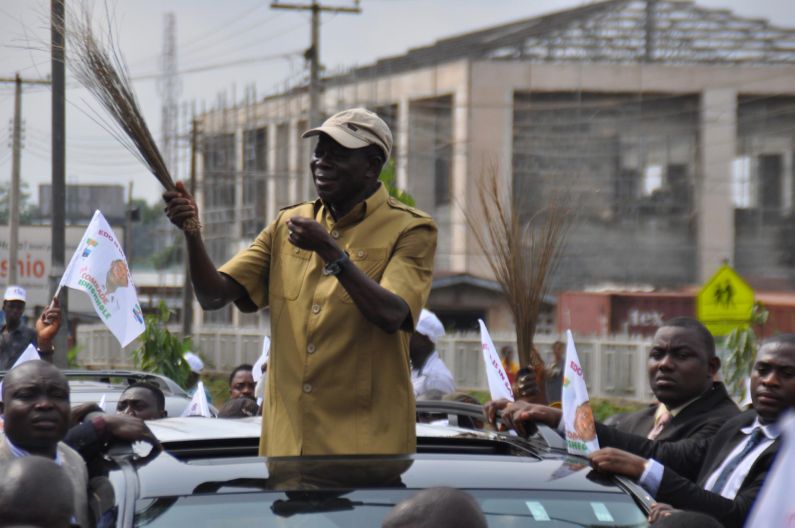 Estimated Reading Time: <1
Northern-based group, Arewa Youth Parliament (AYP) has warned Edo Governor, Adams Oshiomhole, against unguarded utterances against the Goodluck Jonathan administration.
The group, which described as unacceptable the manner Governor Oshiomhole has abandoned the respect for the office of state governor and become an emergency critic of former President Goodluck Jonathan's administration, also asked President Muhammadu Buhari to call the governor to order immediately .
Speaking with journalists during a press conference held at his office in Kawo, Kaduna, northwest Nigeria, on Friday, the Kaduna State Chairman of the group, Ibrahim Garba Rigachikun, said it is worrisome that Oshiomhole, who was one of the friends and close confidants of Jonathan could eventually turn against him.
While stating that the Edo State governor still sees himself in campaign mode, or probably still caught by the bug of labour unionism when he held sway as NLC President, he emphasized that to deny the former President the peace that comes with retirement is a political misadventure.
According to Garba, Governor Oshiomhole first started with a tale by moonlight when he claimed that a US official told him that the officials of the Jonathan administration were involved in large scale financial scandals, only for a rebuttal by the US officials that sent Governor Oshiomhole's tale into the dustbin of history .
Rigachikun who also disclosed that the Governor proceeded to grant an interview to a weekend newspaper, where he said Nigerians would stone former President Jonathan if they knew how much his administration wronged them, said a good leader should avoid making statement capable of inciting the public against a former leader.
It was against background that he called on Oshiomhole to desist from media propaganda against the former President.
"It is uncalled for and unsuitable in this cooling off period to stir up tension, when Nigerians are expecting a string of developmental projects as promised them by his party during the 2015 electioneering campaigns," Rigachikun said.
He also advised the governor to switch from the campaign propaganda mode and emergency radicalism to do the needful for the people of Edo State.
"As a group of non-partisan young men, we believe the nation should move forward, away from unprogressive lamentations and hauling of unfounded allegations," he said.