Buhari Appoints Tinubu's Man, Babatunde Fowler As Executive Chair, FIRS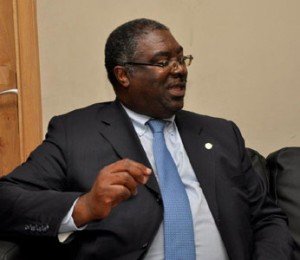 Estimated Reading Time: <1
President Muhammadu Buhari on Thursday, rescinded former President Goodluck Jonathan's last-minute appointment of Samuel Ogungbesan as Act­ing Executive Chairman of the Federal Inland Revenue Service (FIRS).
Ogungbesan was replaced with the ex-Chief Executive Officer/Executive Chairman of Lagos State Internal Revenue Service (LIRS), Dr. William Babatunde Fowler, said Special Adviser to the President (Media & Publicity), Femi Adesina, in a statement.
According to the statement, Dr. Fowler will serve in Acting capacity until his appointment is confirmed by the Senate. Fowler is a close ally of the All Progressives Congress Leader, Bola Ahmed Tinubu..
Fowler was the Chief Executive Officer/Executive Chairman of the Lagos State Board of Internal Revenue from 2005 to 2014.
He had his higher education in the United States where he obtained a Bachelor's degree in Economics from the University of Wisconsin and a Master of Business Administration degree from the California State University.
Before joining the service of the Lagos State Government, Dr. Fowler worked in the banking sector for about 20 years with long stints at Credit Lyonnais Nigeria Limited and Chartered Bank.
Under his leadership, the Lagos State Board of Internal Revenue reportedly achieved a sharp increase in internally generated revenue from an average of N3.6 billion per month in January 2006, to an average of about N20.5 billion per month in 2013.
Fowler, who holds an Honorary Doctorate Degree of the Irish International University, is a Fellow of the Chartered Institute of Taxation of Nigeria and the Business Management Association of the United Kingdom.
Recall that the FIRS has not had a substantive chairman since the departure of Ifueko Omogui-Okauru in 2012.
Kabir Mashi succeeded Mrs. Omogui-Okauru in acting capacity and remained in that capacity till March 2015, when Jonathan appointed Ogungbesan, a Coordinat­ing Director at FIRS to replace him.