Lagos Nigeria Has Been Ranked Amongst The Worst Cities To Live Globally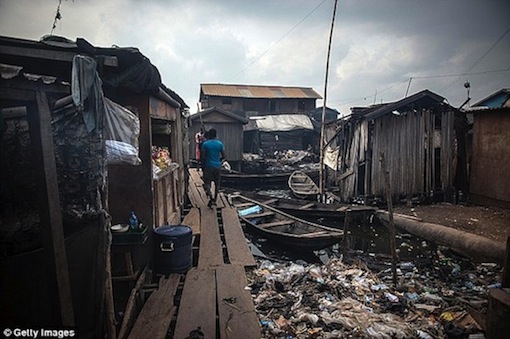 Estimated Reading Time: <1
Lagos has been ranked amongst the worst cities to live globally following the 'Global Liveability Ranking', by The Economist Intelligence Unit (EIU) for 2015.
Nigeria's most populous city Lagos was considered the fourth least (136) liveable city in the world on the list of 140. The survey took account of cities' healthcare, education, safety, culture, environment and infrastructure.
Unsurprisingly, the Syrian city of Damascus – which has been ravaged by the country's civil war – was last on the list of 140 major cities.
It was followed by Dhaka in Bangladesh, Port Morseby in Papua New Guinea, Lagos in Nigeria and the Libyan capital of Tripoli, which has also been the victim of an ISIS insurgency.
Melbourne was named the best city in the world to live in for the fifth year in the row while Vienna in Austria came second followed by the Canada cities of Vancouver and Toronto, and Australia's Adelaide.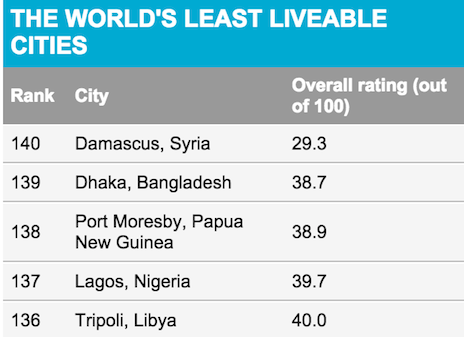 Melbourne again achieved a near-perfect score of 97.5 out of a possible 100.
Vienna recorded an impressive 97.4, Vancouver 97.3, Toronto 97.2 and Adelaide – the second Australian city in the top five – got 96.6.
"Those that score best tend to be mid-sized cities in wealthier countries with a relatively low population density," the EIU report said.
"These can foster a range of recreational activities without leading to high crime levels or overburdened infrastructure."
But the world has become a more dangerous place to live, according to the EIU report which said the global 'stability score' fell by 2.2 per cent over the last five years.
Several cities across the globe have suffered a decline due to recent terror attacks, ongoing conflict and general instability.