Obasanjo Is Skillful At Destroying Any Individual/Institution While Pretending To Love The Country, Says OrjI Kalu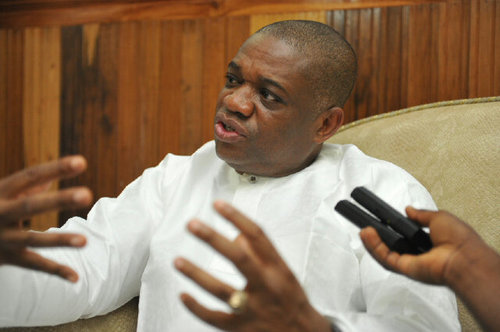 Former governor of Abia State, Dr. Orji Uzor Kalu, has urged Nigerians to be wary of former President Olusegun Obasanjo because he is a comedian, deceiver and destroyer.
He said Obasanjo was skillful in the art of destroying any individual or institution, while at the same time, pretending to love the country.
Kalu was reacting to comments credited to the former president that he (Obasanjo) was yet to make up his mind on which party to join. Before the March 28 presidential election, Obasanjo, a former Chairman, Board of Trustees (BoT) of the Peoples Democratic Party (PDP) ordered a member of the party in Abeokuta, Ogun State to tear his (Obasanjo) membership card. Since then, according to him, he has remained partyless.
But Kalu described the former president's comments that he was yet to join any party as "Obasanjo's publicity stunts to always distract Nigerians".
Kalu, President of Slok Group, a worldwide business empire, said Obasanjo "is a turncoat than a patriot he has always portrayed himself to be".
He said: "Obasanjo is a man who would say that Nigeria needs 'Do-tanks' and not 'Think-tanks'. But he would be quick to reverse his statement at any given point in time when he sees any opportunity that calls for him to do so. Obasanjo does not speak brightly, but comically. He wants people to laugh for him at even a serious matter of discourse.
"Whatever Nigeria has become today, Obasanjo made her. It is funny that Obasanjo does not know how unserious people take him. Obasanjo's posture and move to influence the government of President Muhammadu Buhari has been rejected by many people. Remember that a Senator from Edo State vehemently opposed Obasanjo's Think-tank report submitted to Buhari.
"In classifying Obasanjo, the lawmaker simply said in a commentary: 'How can Obasanjo be preparing a blueprint for Buhari? A Bini parable says, 'how can an impotent man get medicine for his brother, who suffers weak erection?' The senator regretted that some great Nigerians followed Obasanjo as members of the 'Think-tank' team, oblivious that he was father of 'do-or-die' politics in Nigeria. So, what is Obasanjo 'Think-tanking'?
"The Senator further said about Obasanjo: 'Wonders will never end! How can Obasanjo, who allegedly wasted eight years in government pursuing perceived enemies, and tried to ruin the legislative and judiciary arms of government in Nigeria; wasted $16 billion on power and not a single kilowatt of energy was produced, destroyed Aladja Steel, Itakpe Steel, Ajaokuta Steel, NITEL, just to mention a few FGN parastatals, now begin to advise Buhari? How can Obasanjo, whose government received, in one year, a revenue equivalent of the total revenue that IBB regime received in eight years, yet, nothing to show for it, be handing over blue-print to the Buhari administration?"
Kalu said that he saw in 2012 that Nigeria was a country that was going through evolution and decided to keep to himself.
He said further: "Obasanjo, who could not afford N10,000 when we formed the Peoples Democratic Party (PDP) in 1998, with the likes of Atiku Abubakar; and when he was declared the winner of the 1999 election, he had just N20,000 in his worldwide savings, is a billionaire today. He was one president who ruled his country from the airspace because he was always flying".
As governor, Kalu said he parted ways with Obasanjo because he (Obasanjo) tried to mess up the country.
"In fact, he lied his way to fame".
Kalu revealed that he would soon send letters to the United Nations, the European Union and the United States to probe Nigeria's former leaders.
"These leaders should come and prove how they bought houses in Victoria Island, Maitama, Abuja. Let the world know who the real thieves are. You cannot be calling people thieves when the real thieves are walking free on the streets of Nigeria.
"It is not fair to me in particular because I know that at the formation of PDP, I contributed N500 million in 1998 and I don't know how many of them that own N500 million in 1998. But today, I am a thief. I also contributed almost $1 million to Obasanjo's campaign in 1998, when nobody had no penny to give. Why I am a thief today is what I don't understand.
"Obasanjo made the country the way it is today. He caused every problem Nigerians are facing in the country today. Obasanjo has no moral right to say anybody is corrupt. Even when I was in office, I told him that corruption is under his table, but Nigerians did not listen. The Americans, British, Germans, French, they all know. The people of these countries have no respect for Obasanjo".
Kalu praised the National Assembly for the intention to probe the power sector.
"It is only in Nigeria that Obasanjo is buying his way through comedy, yet many people do not take him seriously".