A Wave Of Defection Sweeps Bayelsa PDP, As Chairman, Tiimi Alaibe, 1,100 Other Members Defect To APC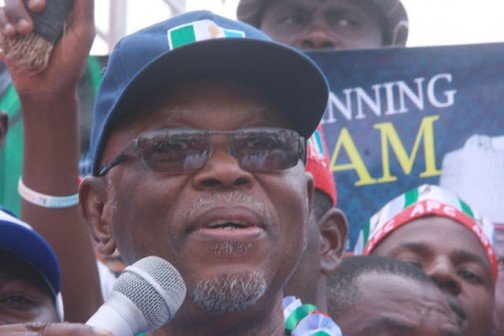 Estimated Reading Time: <1
A wave of defection has swept through the Peoples Democratic Party in Bayelsa as its current Chairman, Sam Inokoba, a former Managing Director of the Niger Delta Development Commission, Timi Alaibe, and over 1,100 party leaders left the party for the All Progressives Congress.
PREMIUM TIMES reports that, addressing a political rally at the Samson Siasia Sports Complex, Mr. Inokoba, who listed 10 reasons for leaving the PDP, they were crossing over to the APC because the PDP government has derailed from its original objectives.
He said they were disenchanted with the leadership style of Governor Seriake Dickson and lack of internal democracy in the PDP.
He said Mr. Dickson had abandoned the tenets of good governance and set the state on a path of retrogression and dictatorship even in a democratic dispensation.
Mr. Inokoba said the PDP was bedeviled by endless intra-party squabbles and manipulation by the PDP governor.
He said he was moving into APC with his followers from 105 wards in the state and urged Bayelsa people to shun sentiments to embrace change.
In his remarks, Timi Alaibe, noted that he was not changing for the sake of change but to steer the state from poverty to prosperity.
He said a state as endowed as Bayelsa had no business with poverty.
Mr. Alaibe regretted that the state had not benefitted from its natural endowments and pledged to work to install an APC government in the state.
In his speech, a former governor of the state, Timipre Sylva, said the party was poised to work with all political stakeholders in unity to foster peace and enthrone a people-centered government.
He decried the high level of insecurity and piracy in the state which he said had crippled economic activities in the coastal communities.
He said the APC would sweep the polls in the December election to usher in development in the state, adding that he would join hands with the APC-led federal government to drive the state to greater heights.
Receiving the new members, the APC National Chairman, John Odigie-Oyegun, handed over brooms to the defectors.
He said the APC would ensure the collective development of the country for the good of all.
Mr. Oyegun paid tributes to Mr. Sylva for galvanizing support for the APC in Bayelsa state, by bringing quality political leadership into the party.
He said the South South remains the economic base of the nation and cannot afford to be in opposition.
The APC chairman assured the people of the state that the East-West road would be completed by the APC-led federal government.
Email