President Buhari Wants To Be The Only One To Head Nigeria's Petroleum Ministry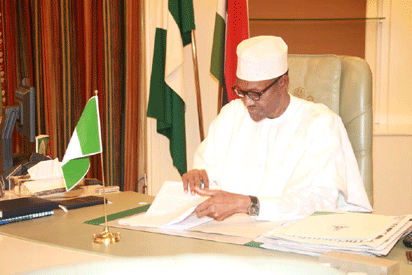 President Muhammadu Buhari will possibly head the Ministry of Petroleum for 18 months before appointing a substantive minister for the ministry.
Buhari reportedly said this during a recent meeting with some members of his political party, the All Progressives Congress, in Abuja.
One of those present at the meeting revealed to Punch Newspapers, that President Buhari disclosed that he would use the one and a half years of heading the sensitive ministry to reposition it.
The source was quoted to have said: "At the meeting we had recently, we discussed the issues of portfolios and other matters, the President said he was going to handle the Ministry of Petroleum himself for about 18 months."
"He said it was after this that he would appoint a substantive minister for the ministry. He said he would only personally handle the reorganisation of the much-important ministry. Besides, he said the ministry needed to be reformed and be rid of corruption. He promised to sanitise the ministry."
As a stop-gap, it is believed that the President would appoint an experienced person as his special adviser on petroleum, while he attempts to block all the loopholes that made it possible for people to steal money from the sector as well as petroleum products during previous administration.