Governor Tambuwal Says Speaker Dogara More Competent & A Better Leader Than Gbajabiamila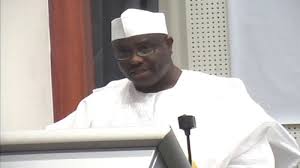 Estimated Reading Time: <1
The governor of Sokoto State, Aminu Tambuwal, has finally spoken up, explaining why he supported the aspirations of Yakubu Dogara to become speaker of the House of Representatives over Femi Gbajabiamila who was the choice of the ruling APC.
He explained that Dogara was more competent and exhibited better leadership skills than his opponent.
"The issue of competence led eight out of 10 members of the body of Principal Officers of the 7th Assembly to endorse Dogara," he said, when leaders of Sayawa Community of Bogoro and Tafawa Balewa Local Government Areas of Bauchi State paid him a "thank you" visit to show appreciation to him for supporting their son to become speaker.
To think that Dogara opposed his bid to become speaker in 2011 while Gbajabiamila supported it. but Tambuwal added more words, "The survival of the legislature as an important arm of government made it imperative that competent hands are headhunted to be its leaders," he said.
"Eight out of ten members of the Body of Principal Officers in the last Assembly supported Dogara's aspiration," he said. "Only Hon Femi (Gbajabiamila) and Hon Datti Ahmad supported Femi." He however did not mention that naturally most principal officers of the last assembly supported Dogara as they belonged to the PDP which had decided to support the candidates going against the APC official position in both the senate and house races.
"I have strong affinity with Hon Femi. He was closer to me than Dogara. But when talking about leadership and collective decisions, sentiments have to be put aside. I'm not here to tell you that my support made Dogara the Speaker, no. Two things made Dogara to become the Speaker, one is God and two, Dogara's competence.
"The acknowledgement of Dogara's competence did not start with me. It started from the time of Hon Patricia and Etteh and Hon Dimeji Bankole when they entrusted him with a sensitive position of the Chairman of House Services Committee.