General Chris Olukolade Resigns As FOSSRA Chairman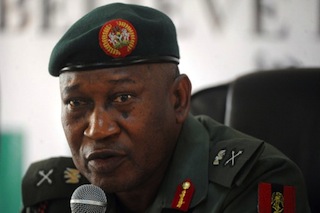 The retiring Director of Defence Information and Chairman of Forum of Spokespersons of Security and Response Agencies (FOSSRA), Major General Chris Olukolade, has handed over leadership of FOSSRA to the Director of Information, Nigeria Navy, Commodore Kabiru Aliyu.
At the monthly meeting of the forum held Thursday at the Centre for Crisis Communication (CCC), Abuja, the General Olukolade formally informed his colleagues about his retirement having reached his retirement age.
According to him, he ought to have left the service since November 2014 when he applied for voluntary retirement but was not obliged by the Army Council who extended his stay in the service on the grounds that it was not proper for him to go at that time.
Speaking further, Gen Olukolade thanked members of the forum and their agencies for the support and understanding they accorded him while he chaired the forum since its formation in 2013. He also solicited the same measure of support for his successor while reminding them of the core essence of the forum which is to deepen the collaboration and understanding among the security and response agencies in information management and communication.
In his acceptance remark, the new Chairman of the forum, Commodore Kabiru Aliyu extolled the sterling leadership qualities of the retiring General which according to him was the pillar behind the successes recorded by the forum. He assured the former Chairman of his determination to carry on from where he stopped and to even strive to move the forum to another level. The Executive Secretary of Centre for Crisis Communication, retired Air Commodore Yusuf Anas also commended General Olukolade for his positive contributions to national development and crisis communication strategies in one of the most critical period in Nigeria. He also wished him well in his future endeavors.
The membership of FOSSRA are the spokespersons of Military, Security, Intelligence and Response agencies. They represent the Defence Headquarters, Nigerian Army, Nigerian Navy, Nigerian Air Force, Nigeria Police, Department of State Service (DSS), National Intelligence Agency (NIA), Nigeria Security and Civil Defence Corps (NSCDC), Nigerian Customs Service, Nigerian Immigration Service, Nigerian Prisons Service, Federal Fire Service, Federal Road Safety Commission (FRSC), National Emergency Management Agency (NEMA) and the Office of the National Security Adviser (ONSA).
Meanwhile as outgoing spokesperson of Defence Headquarters, Major General Chris Olukolade will next week hand over to Colonel Rabe Abubakar who has been appointed acting Director Defence Information (DDI).