Just In: Femi Gbajabiamila Emerges House Majority Leader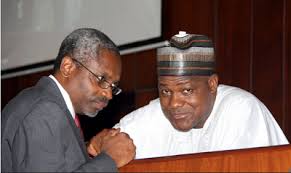 Estimated Reading Time: <1
The House of Representatives has named Femi Gbajabiamila the majority leader, in a move likely to help calm a house frayed for weeks by leadership tussle.
Mr. Gbajabiamila emerged the All Progressives Congress caucus leader hours after the House leaders met with the leadership of the ruling APC in Abuja.
Mr. Gbajabiamila, a former minority leader, contested for the speakership slot, but narrowly lost to Yakubu Dogara.
Mr. Dogara's rejection of the party's demand that Mr. Gbajabiamila be given the majority leader position, split the house into two factions, each insisting on its term for resolving the conflict.
Also, Ado Doguwa was named chief whip and Buba Jibrin, deputy leader. Pally Iraise was named deputy whip.