Okonjo-Iweala Denies Giving Buhari Dossier On Jonathan's Corrupt Deals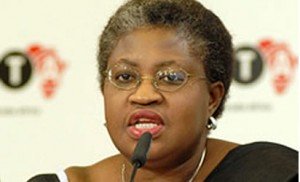 Estimated Reading Time: <1
The former Minister of Finance, Dr Ngozi Okonjo-Iweala has denied reports that she has handed over to President Muhammadu Buhari a dossier on former President Goodluck Jonathan's corrupt deals.
She made the denial in a statement by her media aide , Paul Nwabuikwu on Saturday.
The statement said : "The recent report by the integrity-challenged website, Saharareporters and some other media that former Minister of Finance, Dr Ngozi Okonjo-Iweala has handed over a "dossier of corrupt deals" perpetrated by the Jonathan administration to President Buhari is completely false and without foundation.
"This sponsored lie is part of the political attack by the pay masters of Saharareporters against Dr Okonjo-Iweala.
"These attacks will continue given that these individuals are bent on a political and personal vendetta against her.
"Why are they angry? It is simply because she tried to bring integrity and transparency to the management of Nigeria's public finances which obviously did not suit their interests.
Nwabuikwu alleged that "Saharareporters which has a long history of publishing falsehoods and distortions against Okonjo-Iweala is a paid tool of these individuals.
"But the lies of Saharareporters and its cohorts will never stop Okonjo-Iweala from loving her country or make her regret serving it, not once but twice.
"As always, we are confident that the truth shall prevail.