Another Three-Storey Building Collapses In Lagos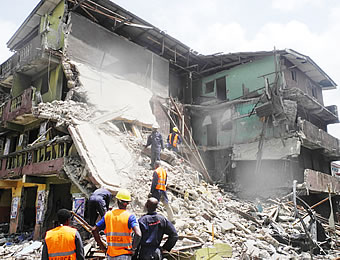 Estimated Reading Time: <1
Less than one week after a building collapsed in Yaba, Lagos State, another three-storey building, on Wednesday, collapsed in Ebute Meta, the News Agency of Nigeria (NAN) reported.
NAN reported that about half of the building located at No. 29, Oloto Street, collapsed on the right side, leaving the other half hanging dangerously over adjoining buildings.
NAN reported that the building had not been occupied since 2012 after a portion at the back collapsed, forcing residents in front apartments to leave.
A correspondent of NAN observed that rescue workers from the Lagos State Emergency Management Agency (LASEMA) and Lagos State Building Control Agency (LASBCA) were at the scene working.
NAN further reported that the officials were using sledge hammers to demolish the building from the point of the partial collapse.
Some residents of the area who spoke to NAN expressed the fear that if the demolition was not properly carried out, it might endanger other buildings in the area.
Mr Folami Goriola, a tenant in one of the buildings on the street, appealed to the state government to ensure a controlled demolition to prevent other buildings from collapsing.
Goriola told NAN that the occupants of No. 27, Oloto Street where he resides had been given notice to run an integrity test a second time.
He noted that the test would ensure stability of their building which was adjacent to the remaining portion of the collapsed building.
"We are nursing the fear that the wrecks may fall over our building," he said.
An eyewitness, Dr Femi Adagunduro, told NAN that the building collapsed in the early hours of Wednesday.
"The collapse happened at exactly at 5.28 a.m. and I called the police emergency number and they responded immediately," he said.
Adagunduro explained that the building had been marked for demolition since 2012 and that the occupants had made efforts to ensure it was pulled down without success.
He lamented that the building was a hideout for social miscreants and also used as a refuse dump, posing danger to the people's health.
Another resident, Mr Rotimi Azeez, told NAN that the back portion of the building killed about 10 persons when it collapsed in 2012, leading to its being marked for demolition.