APC Senator, Adeola Slams Ike Ekweremadu Over Comments On Boko Haram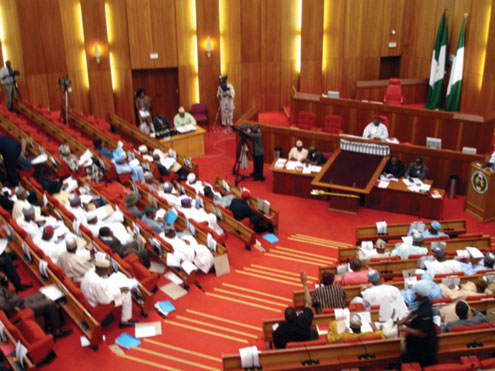 The Senator representing Lagos West Senatorial District, Solomon Adeola, said on Friday that the Deputy Senate President, Ike Ekweremadu, was wrong in his comparison of the activities of Boko Haram insurgency during the former President Goodluck Jonathan's administration and the bomb blasts recorded in some parts of the country recently.
Adeola, in a statement by his Media Adviser, Chief Kayode Odunaro, in Abuja, also said Ekweremadu should not play partisan politics with the resurgence of Boko Haram attacks in recent times.
The deputy president of the Senate, had, on Thursday, expressed concern over the current spate of Boko Haram attacks in the country at a "time that government should be talking of a redevelopment plan to rebuild the North-East since the last administration had almost rolled back the insurgency before handing over on May 29."
But Adeola described Ekweremadu's comparative narrative on the resurgence of Boko Haram attacks as reported in some newspapers on Friday, as a partisan mindset of one playing politics with insurgency.
He said, "It is very worrisome that Senator Ekweremadu, who has been a presiding officer of the Senate under the PDP administration since the inception of Boko Haram about six years ago, will expect the insurgency that his party and PDP administration could not resolve to be eradicated by Buhari in six weeks.
"I believe his comparison of recent attacks under Buhari with that of outgone Peoples Democratic Party administration is informed by partisan considerations of exonerating the PDP from the mess left behind by 16 years of PDP rule.
"It is regrettable that Senator Ekweremadu could come to the conclusion that Boko Haram insurgency has worsen in the last few weeks in comparison to thousands of civilians and military lives lost, destruction of communities as well as the national agony and ordeal of the yet to be resolved missing Chibok girls under the PDP administration."
Adeola noted that what should be paramount on the minds of all Nigerians now is how to put an end to the insurgency permanently which, according to him, was not going to be an overnight assignment.
He added that Buhari and the security agencies were already working out strategies to curtail the focus of Boko Haram attacks on "soft targets" in recent times.
The senator said the insurgents resorted into bombing when it was obvious that the military had weakened them in the battle field where they hitherto had territorial control.