'Abducted Chibok Girls Now Kill For Boko Haram' Insurgents Reportedly Radicalised Nigerian School Girls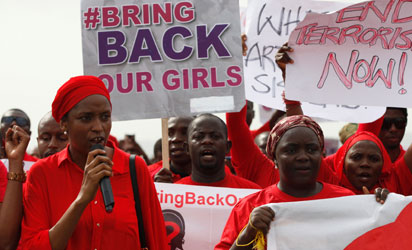 Estimated Reading Time: <1
Three women who claim to have been held in the same camps with the Chibok schoolgirls have said they witnessed occasions when the teenage girls committed murder.
The women told BBC that the insurgents had radicalised the students abducted from Government Secondary School, Chibok, Borno state on April 14, 2014.
Seventeen-year-old Miriam (not her real name) fled Boko Haram after being held for six months. She was forced to marry a militant, and is now pregnant with his child.
Recounting her first days in the camp she said: "They told to us get ready, that they were going to marry us off."
She and four others refused.
"They came back with four men, they slit their throats in front of us. They then said that this will happen to any girl that refuses to get married,".
Faced with that choice, she agreed to marry, and was then repeatedly raped.
"There was so much pain," she said. "I was only there in body… I couldn't do anything about it."
While in captivity, Miriam described meeting some of the Chibok schoolgirls.
She said they were kept in a separate house to the other captives. Miriam is pregnant with the child of a member of Boko Haram
"They told us: 'You women should learn from your husbands because they are giving their blood for the cause. We must also go to war for Allah.'"
She said the girls had been "brainwashed" and that she had witnessed some of them kill several men in her village.
"They were Christian men. They [the Boko Haram fighters] forced the Christians to lie down. Then the girls cut their throats."