NASS Crisis: Speaker Dogara Explains Why He Shunned APC's Letter Over Principal Positions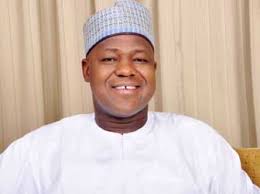 The Speaker of the House of Representatives, Yakubu Dogara, has explained that he was unable to act on the letter forwarded to him by the leadership of the All Progressives Congress because of a pending court case.
Speaking at a parley with former House Representatives members, Representative Dogara, however, said that the fracas that occurred in the House of Reps chambers last Thursday (June 25) was inexcusable and unacceptable.
The Speaker said that although he had wanted to act on the party's letter nominating some persons as principal officers of the House, as a law abiding citizen he was compelled to do otherwise as a result of a pending court case instituted by about 36 APC lawmakers from the North Central zone.
The APC lawmakers alleged that the party had schemed them out in violation of constitutional provision on Federal Character Principle.
He said that the tradition has been that the six principal positions are shared evenly among the six geopolitical zones of the country in accordance with the Federal Character Principle.
The national leadership of the All Progressives Congress (APC) had decided on the party's position on principal officers of the 8th House of Representatives.
The APC had written to the Speaker of the House, Yakubu Dogara, listing out the lawmakers that should fill the party's remaining four leadership positions.
For House Leader, Honourable Femi Gbajabiamila from South-west zone was selected and Honourable Ado Doguwa of the North-west zone was nominated for the position of Deputy House Leader.
Honourable Mohammed Monguno from the North-east zone was chosen as the Chief Whip while Honourable Pally Iriase from the South-south zone was selected for Deputy Chief Whip.
Plenary at the House of Representatives was disrupted by some members over the nomination of principal officers. The disruption on Thursday by some lawmakers, who protested a call by the Speaker for an Executive Session, turned the session into a rowdy one.